---
Defining the three fundamentals that make up K-Design: artistic experimentation, evoking the senses, and se-ryeon.
---
Korean media is on the rise across the globe and U.S. companies are starting to invest and create their own Korean content such as K-Pop and K-Movies. However, there's a lack of understanding and English resources on what defines modern South Korean design.

To combat this, K-Design: Fundamentals of Modern South Korean Design is a manual set that helps U.S. designers understand the difference between Korean and U.S. design by defining the three fundamentals that make up K-Design: artistic experimentation, evoking the senses, and se-ryeon.

#AR #editorial #packaging #print #process
*Archived at the ArtCenter Archives and Special Collections
**Won
Creative Communication Award (C2A) 2022 Best of Best in Student Entries: Art & Culture Books

***Received
International Design Awards (IDA) 2022 Honorable Mention in Student: Print-Print Editorial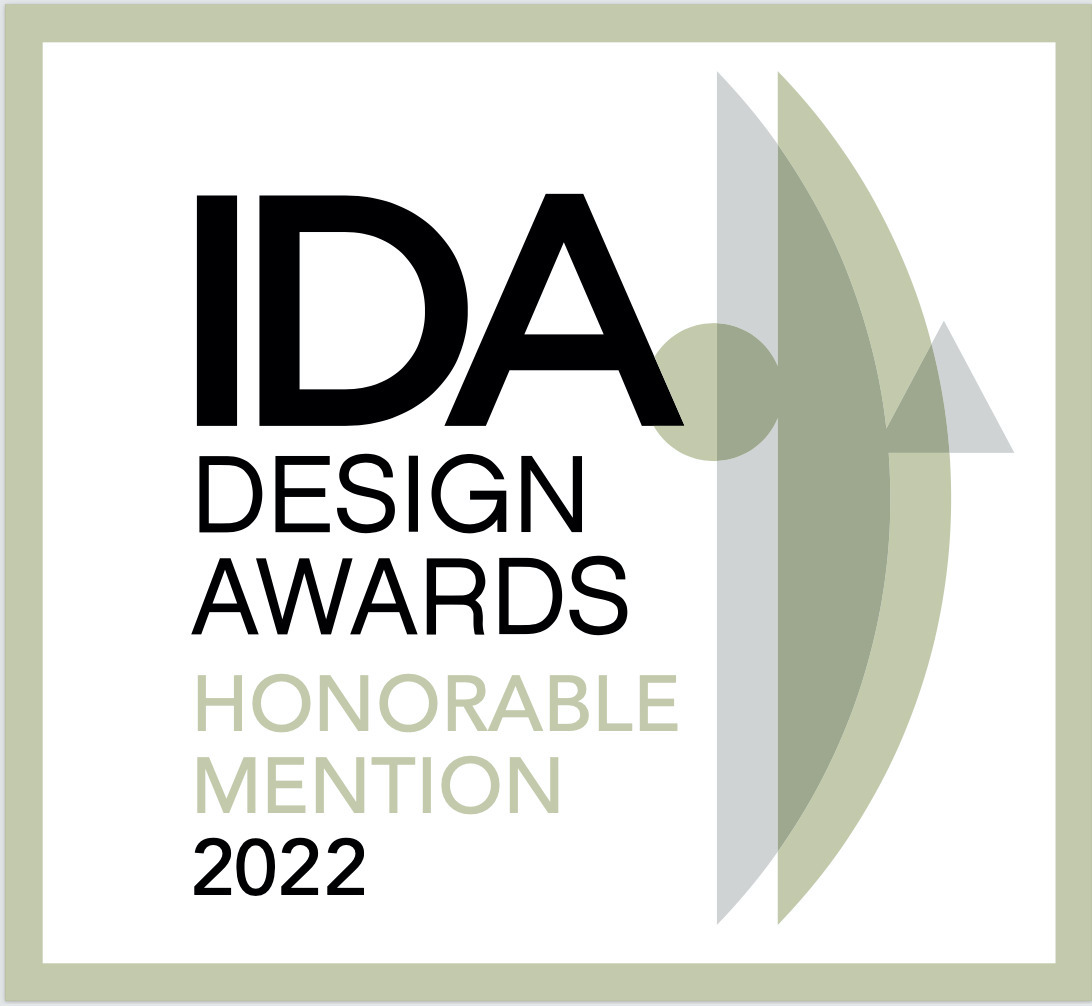 The first K-Design fundamental is
artistic experimentation.
Modern Korean design began in the 1980s and is a short 40 years old. As a result Korea doesn't have well-established rules in design like America. They're unafraid to experiment with wild ideas and nothing has to be a certain way.
The second fundamental is
evoking the senses.
Korea is a Confucius society. Therefore there's a heavy emphasis on morals and being disciplined, so it's cathartic for Koreans when the designs are experiential and evoke all five senses.
The third fundamental is
se-ryeon, a Korean word meaning new, clean, and sophisticated that defines good K-Design.
Se-ryeon
is a complicated word that doesn't have an English equivalent, but it's a word that perfectly expresses what Koreans value in design. Korea, being a small nation between two cultural giants of East Asia, has a history of new technology and ideas coming in and going out fast. As a result, Koreans gravitate towards freshly polished and sophisticatedly trendy designs.
The manual's visual identity system was made to reflect these three K-Design fundamentals. I designed the manual set to be experiential by packaging it similar to a K-Pop album that normally comes in a highly stylish box with cards, books, stickers, CDs, and posters. This way users will be able to interact with the educational material through the different media. To properly represent the idea of
se-ryeon
and trendiness, I researched K-Pop design trends. At this time K-Pop was dipping its toes into early 2000s aesthetics after years of utilizing late 1990s nostalgia. I made a prediction that within the year K-Pop will largely feature 2000s designs such as visuals from The Matrix and Y2k fashion. As such I decided to make cyberspace and rhinestones the main two components of the manual's identity, both in its visuals and writing tone. The black and violet conjure up images of the deep, dark cyberspace and images in the manual book are placed in what looks like internet browsers. In order to freshen up what could look like a stale copy of cyberspace visuals and create a refined look, Y2K rhinestone patterns and frames were added. Various experimentation with the typography was done such as creating type in 3D using Adobe Illustrator's newest feature, designing typefaces with glows, warps, and texture, and testing with AR.
The manual box can be set with a smartphone to look like a mini early 2000s laptop. The user can either play with the box and cards, read the manual books, decorate the book cover with rhinestone stickers, or watch videos on the CD.
Users can also engage with the AR through QR codes on the poster. The user can activate the AR using their devices such as their phone or tablet.
QR codes are also spread out here and there in the manual book where readers can quickly watch relevant videos that the page is talking about.
Following the visual guidelines, images in the manual book are placed in what looks like internet browsers or in rhinestone frames.
The typeface
Favorit by Dinamo
was chosen for its geometric, computer-like look and its availability in both English and Korean.
The book cover can be decorated in any way by the user using the rhinestone stickers and thereby making it experiential.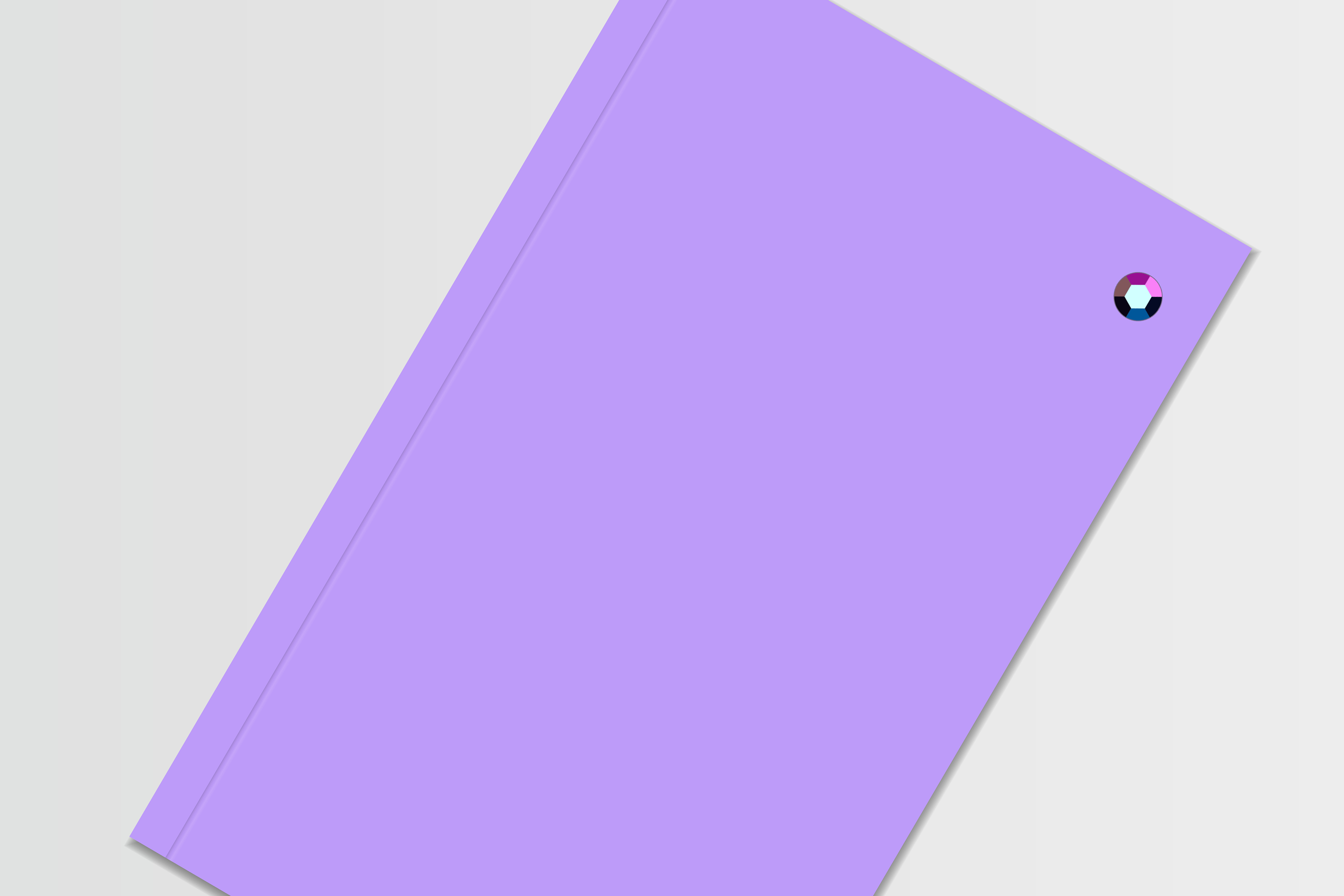 Overall, this thesis helped me understand my identity as a Korean-American designer and how studying historical and cultural context allows us to make proper analyses and create authentic work.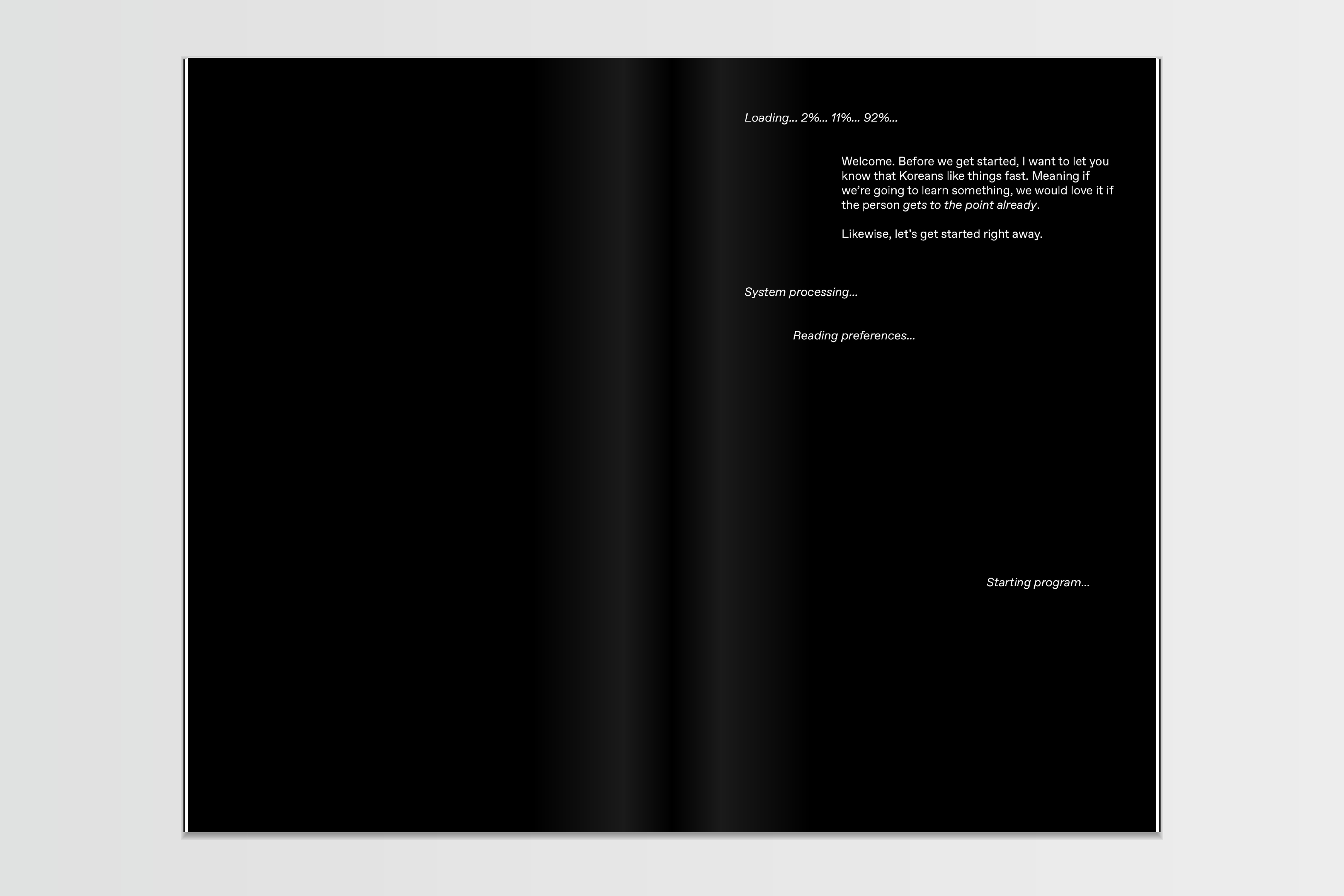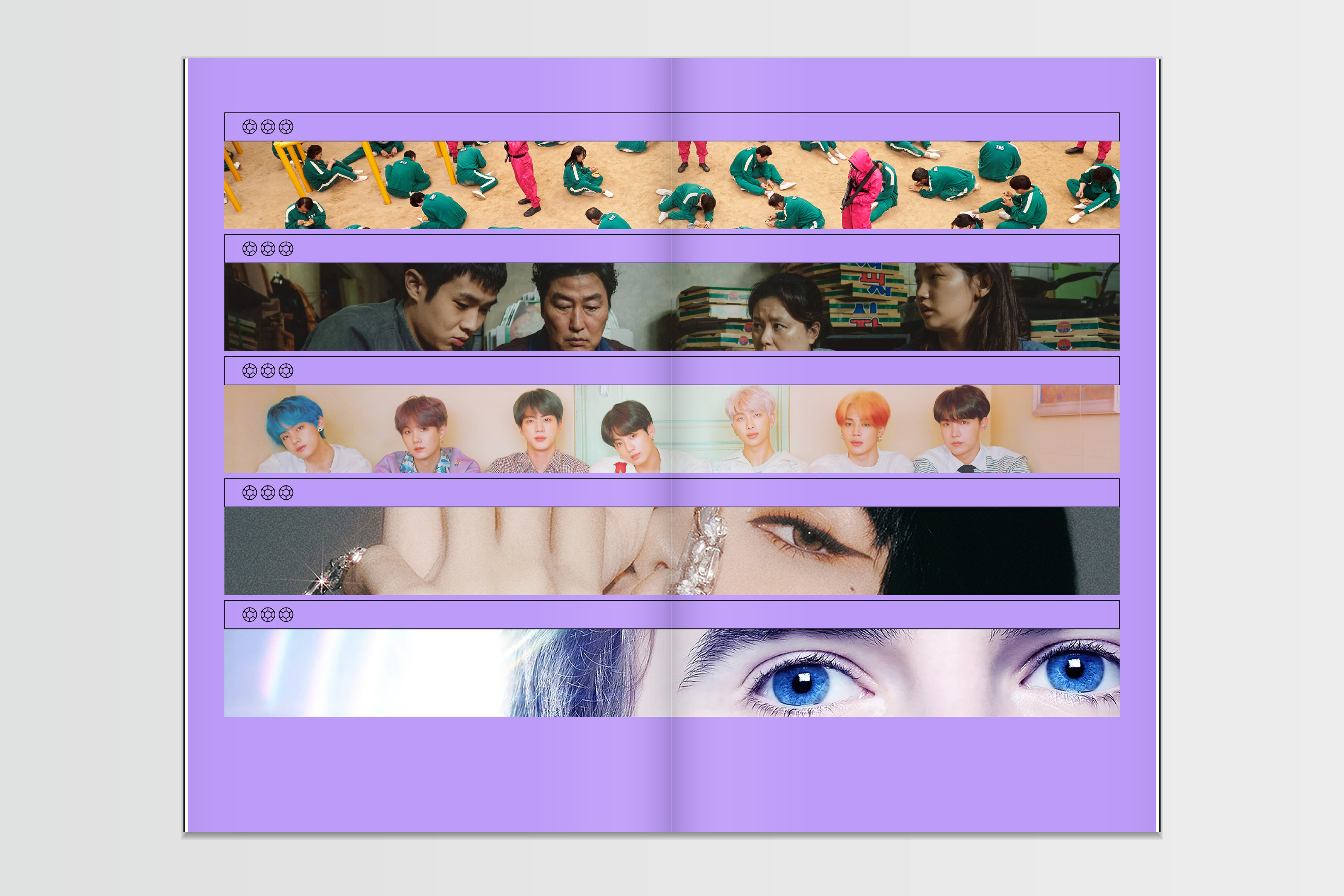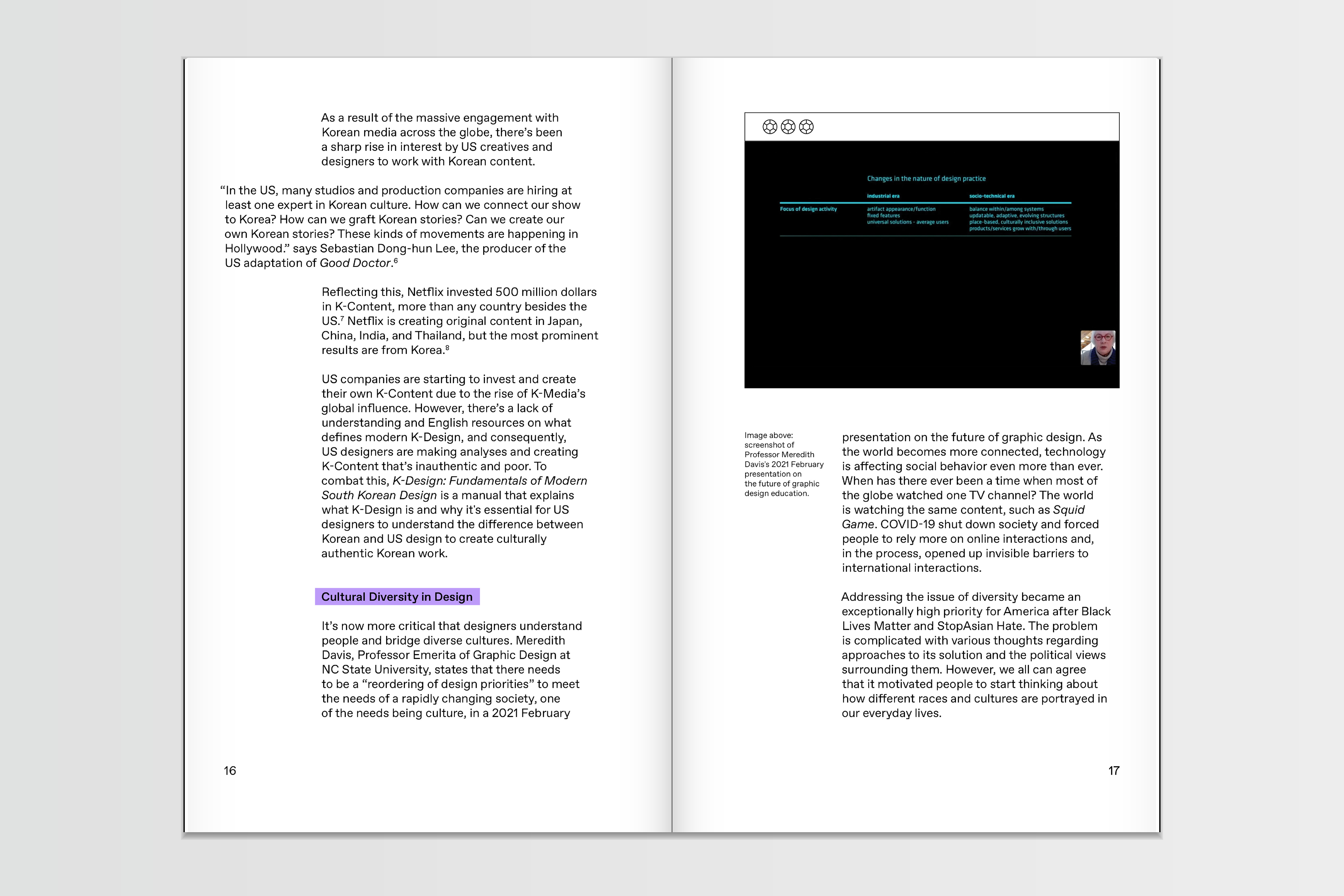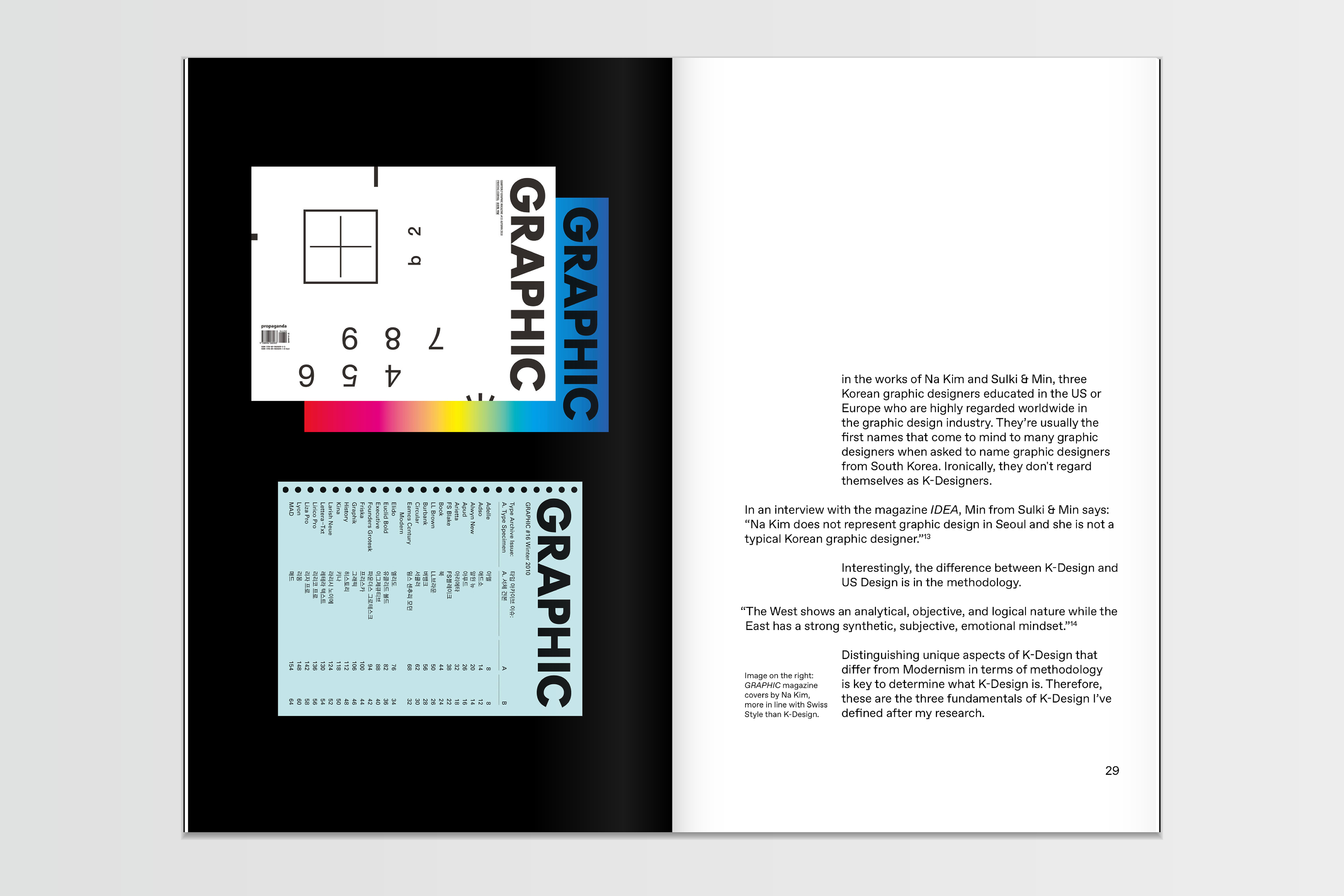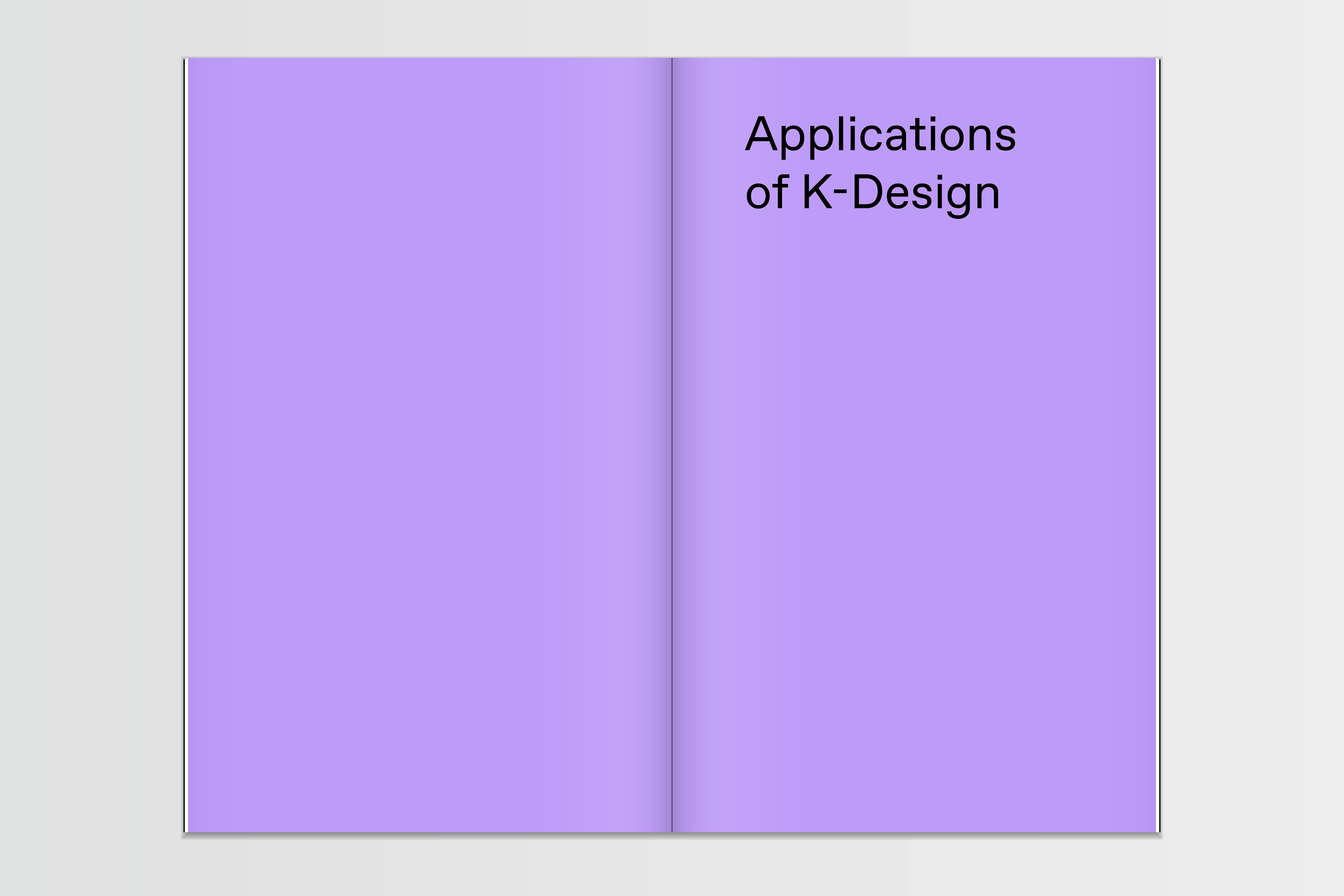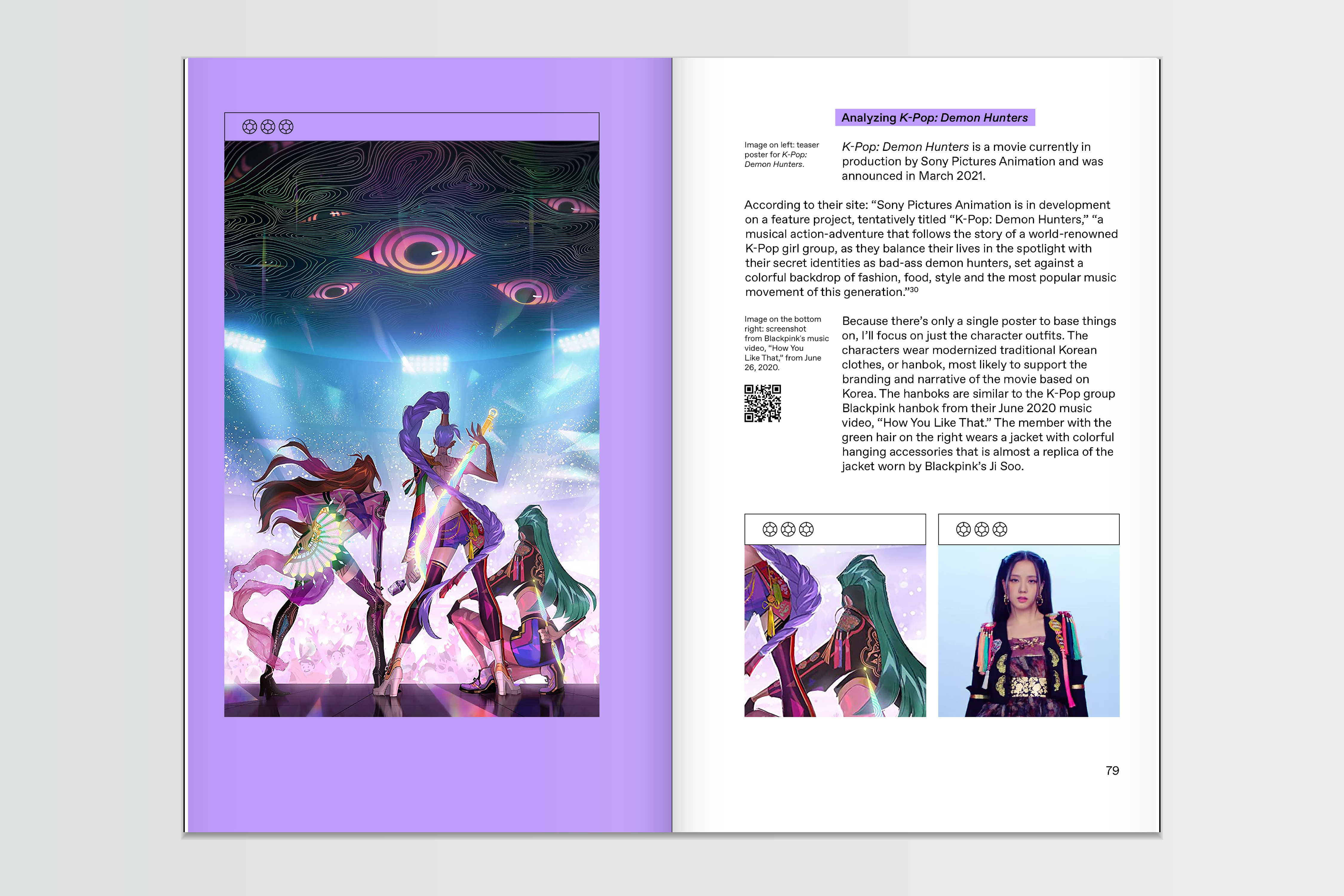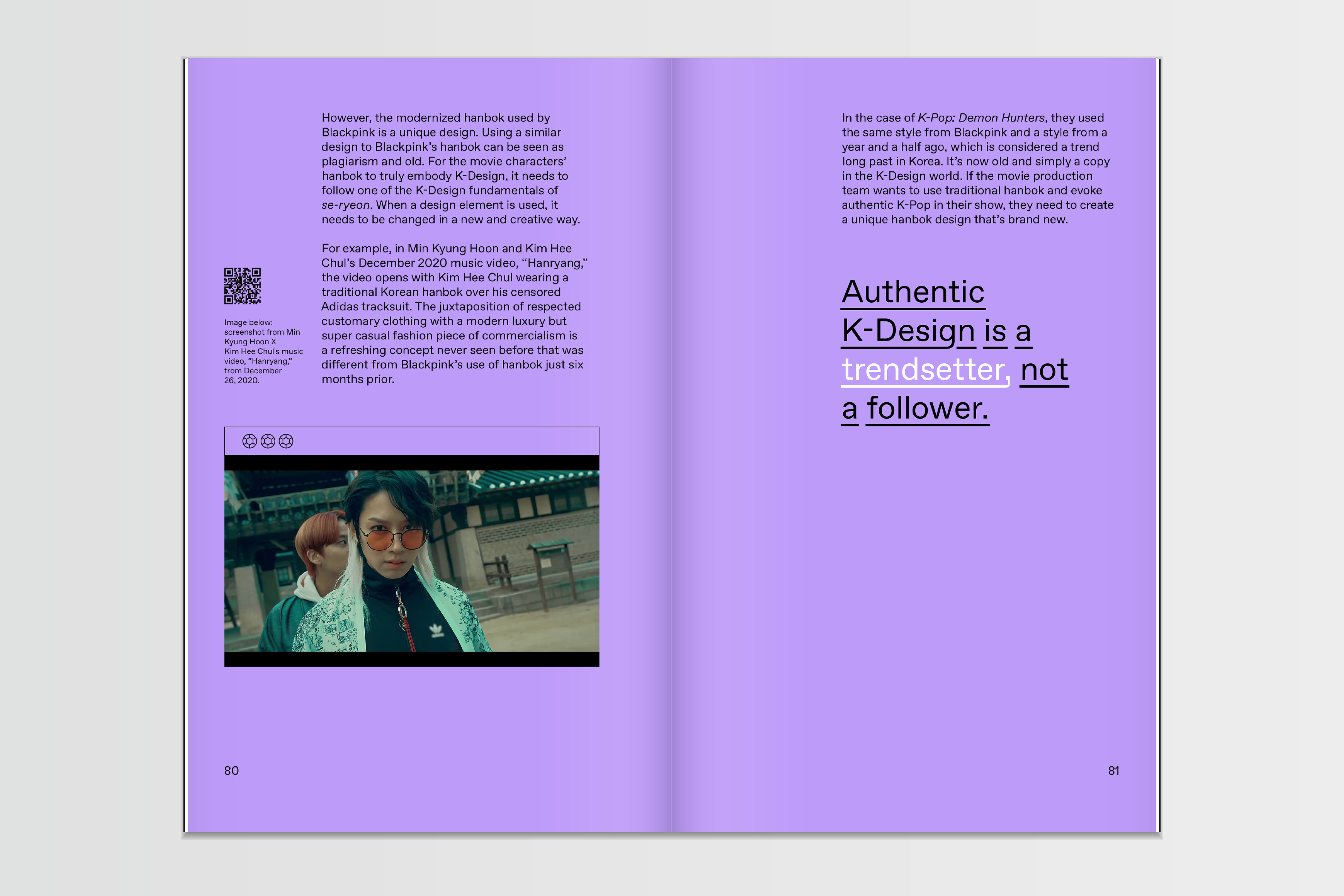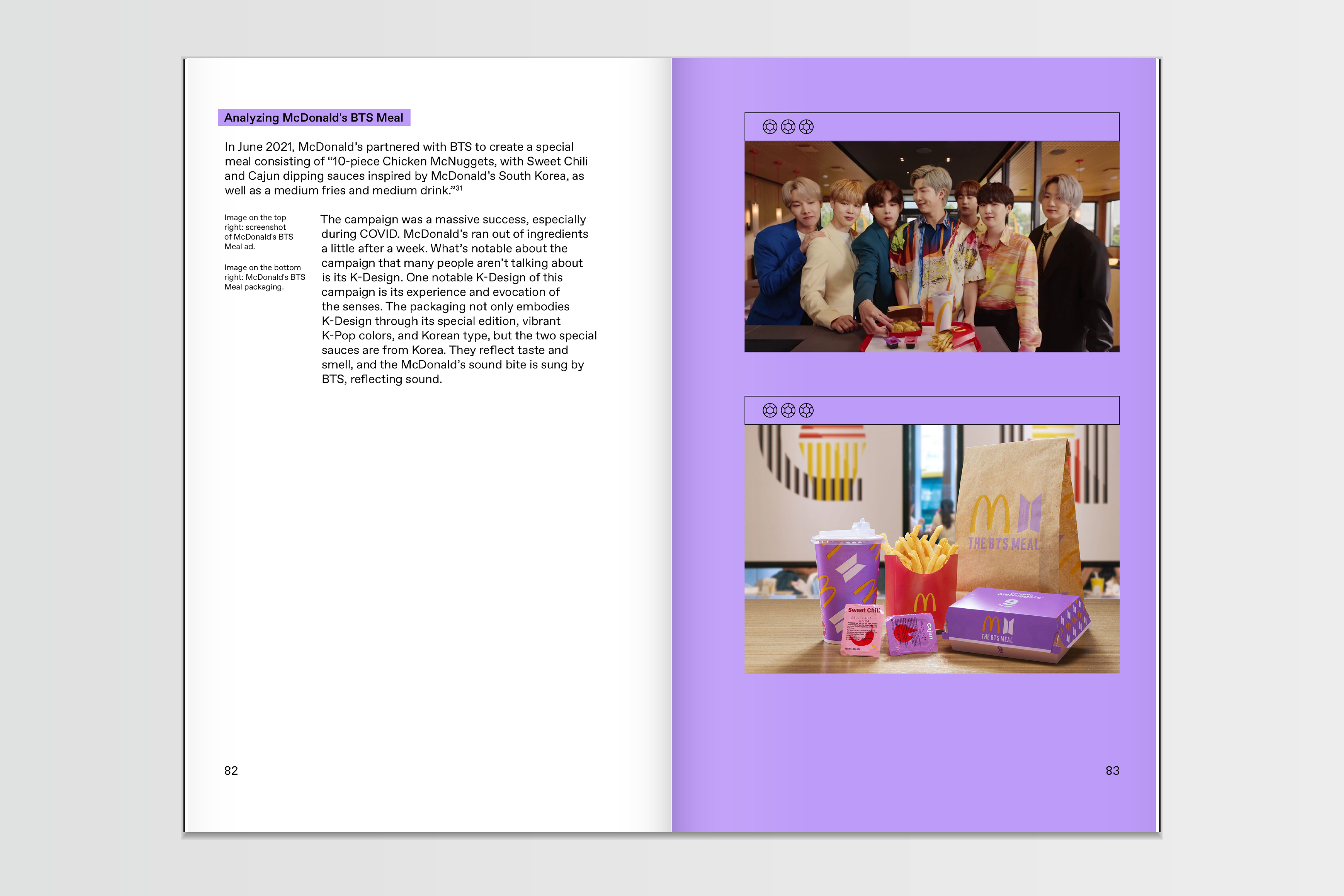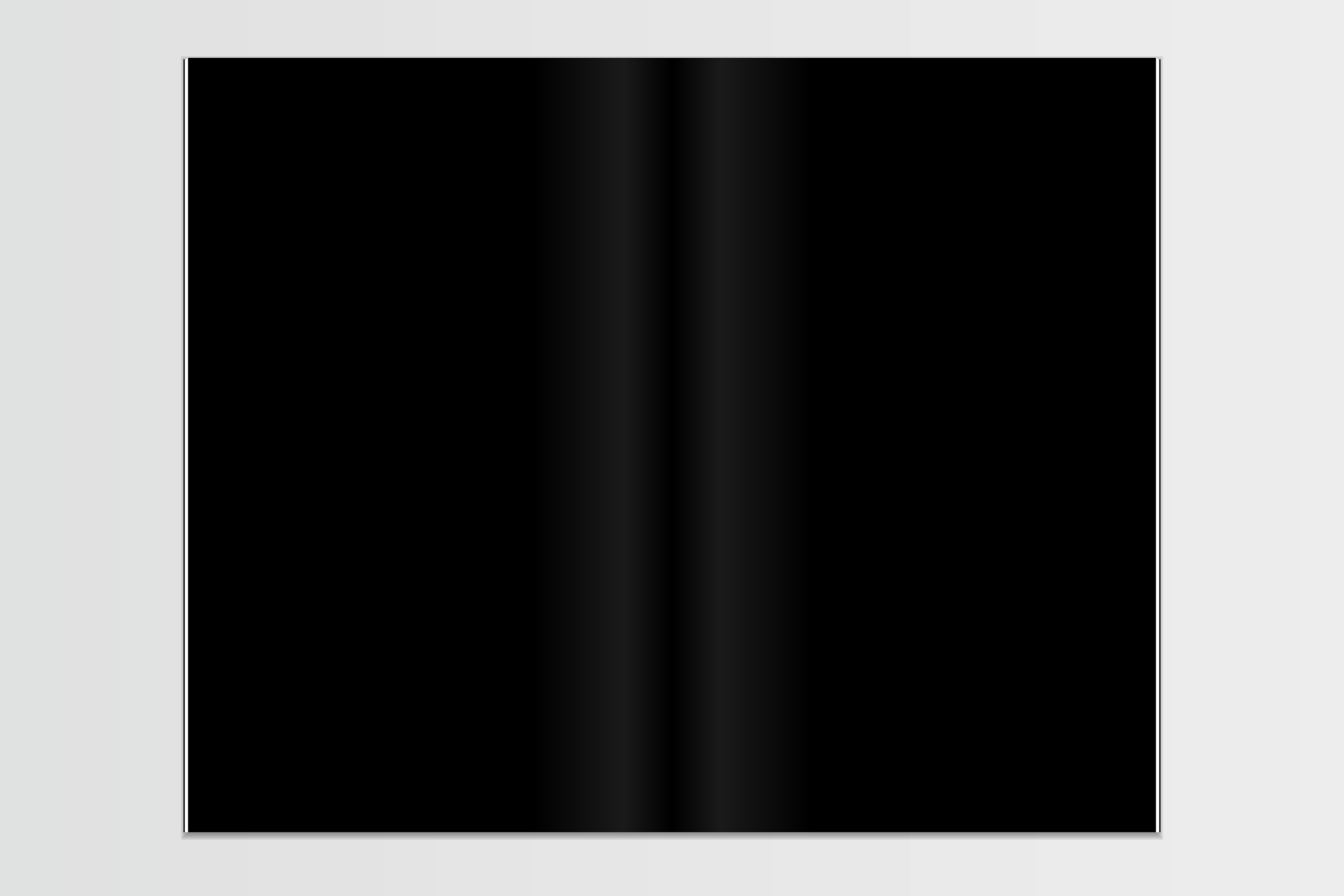 Slide through the carousel below to see the full process behind K-Design through the K-Design process book. Click on the carousel for a fullscreen view.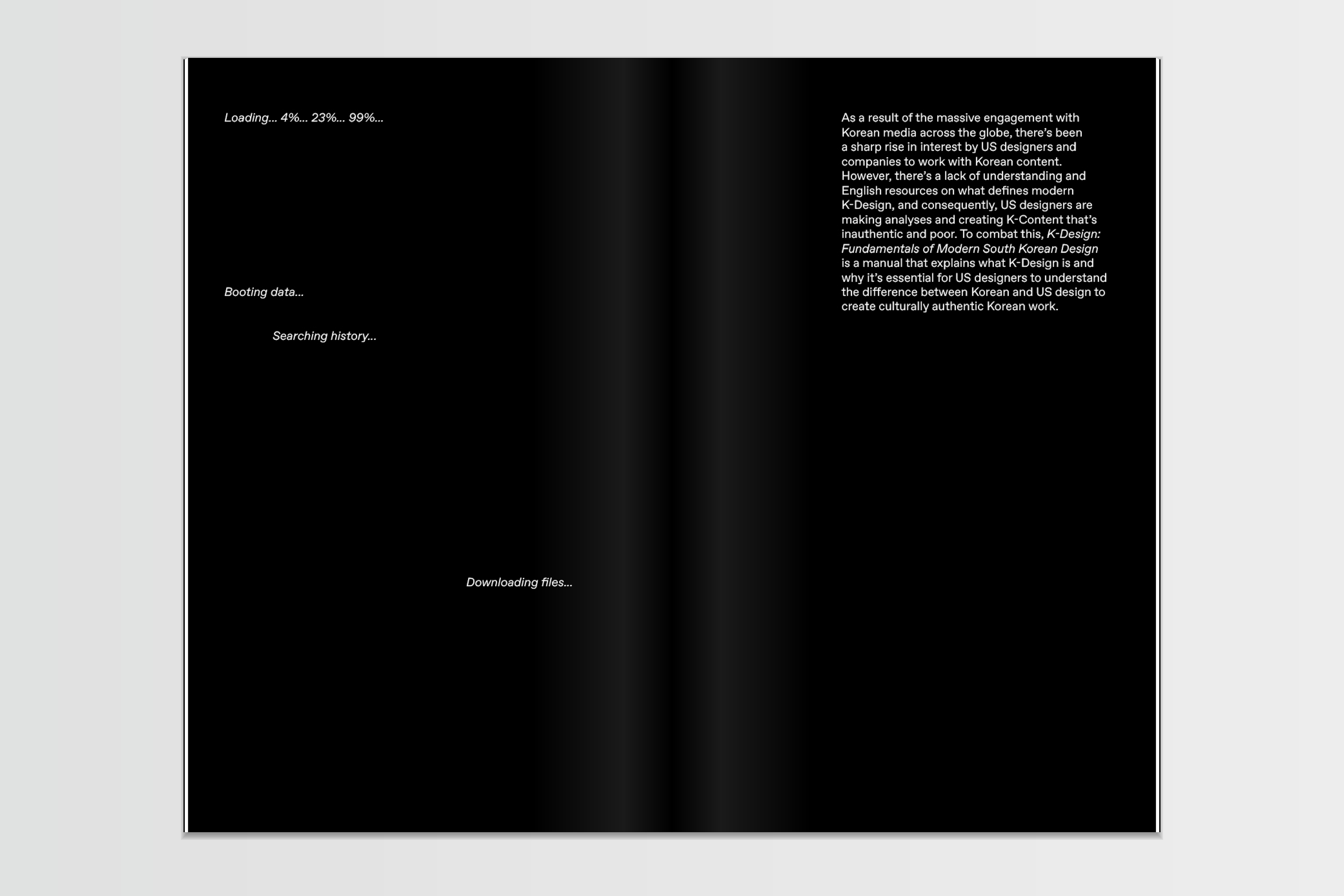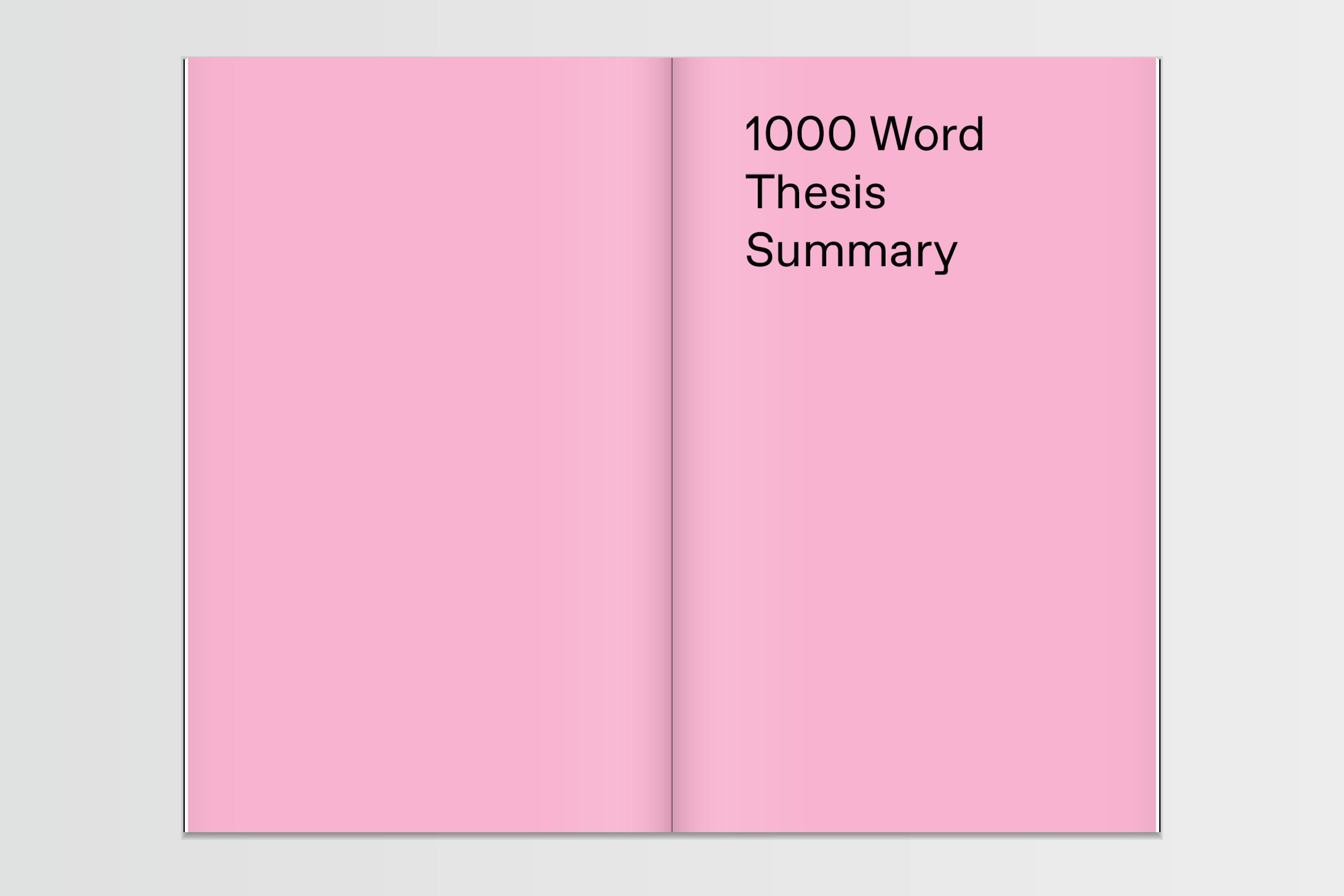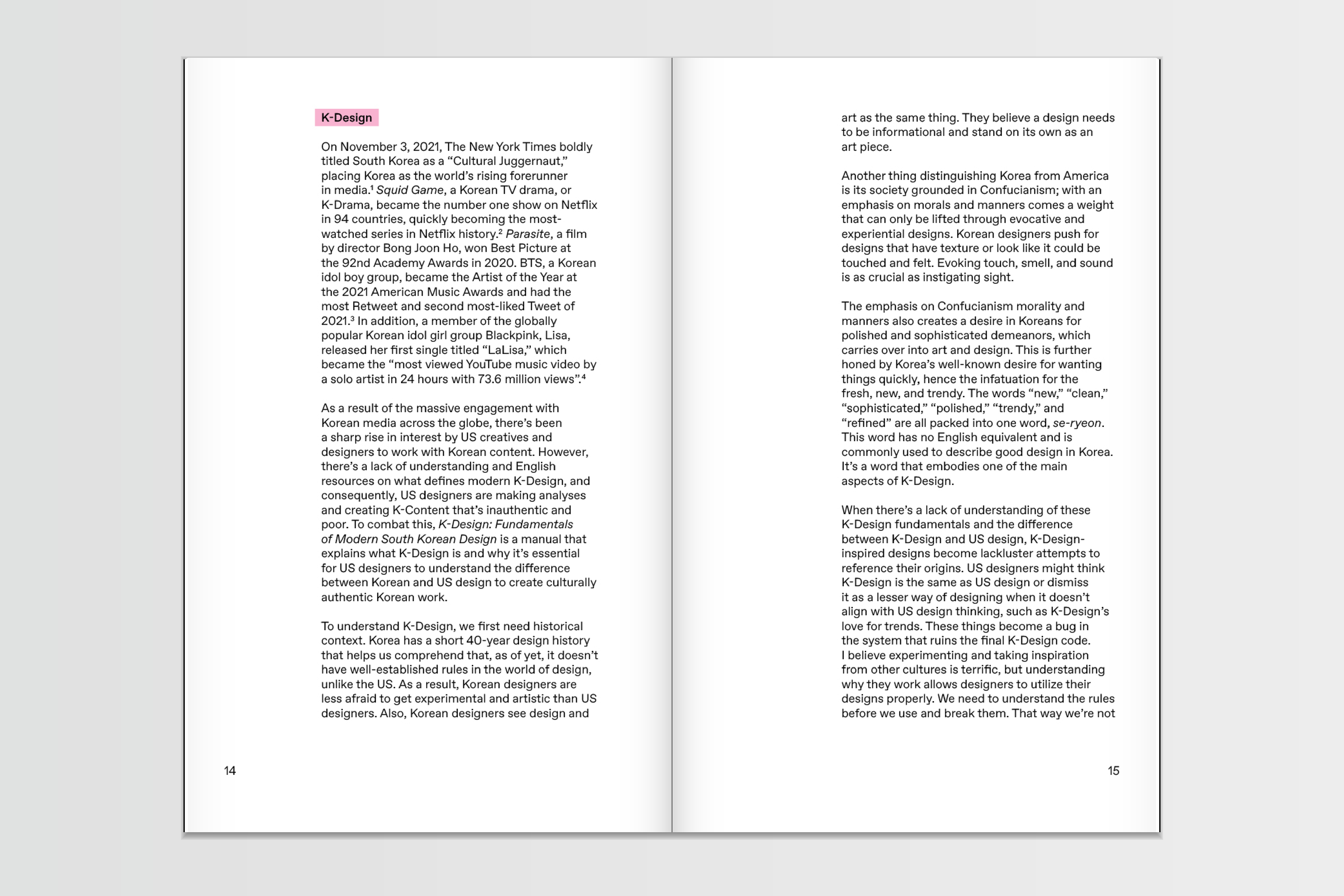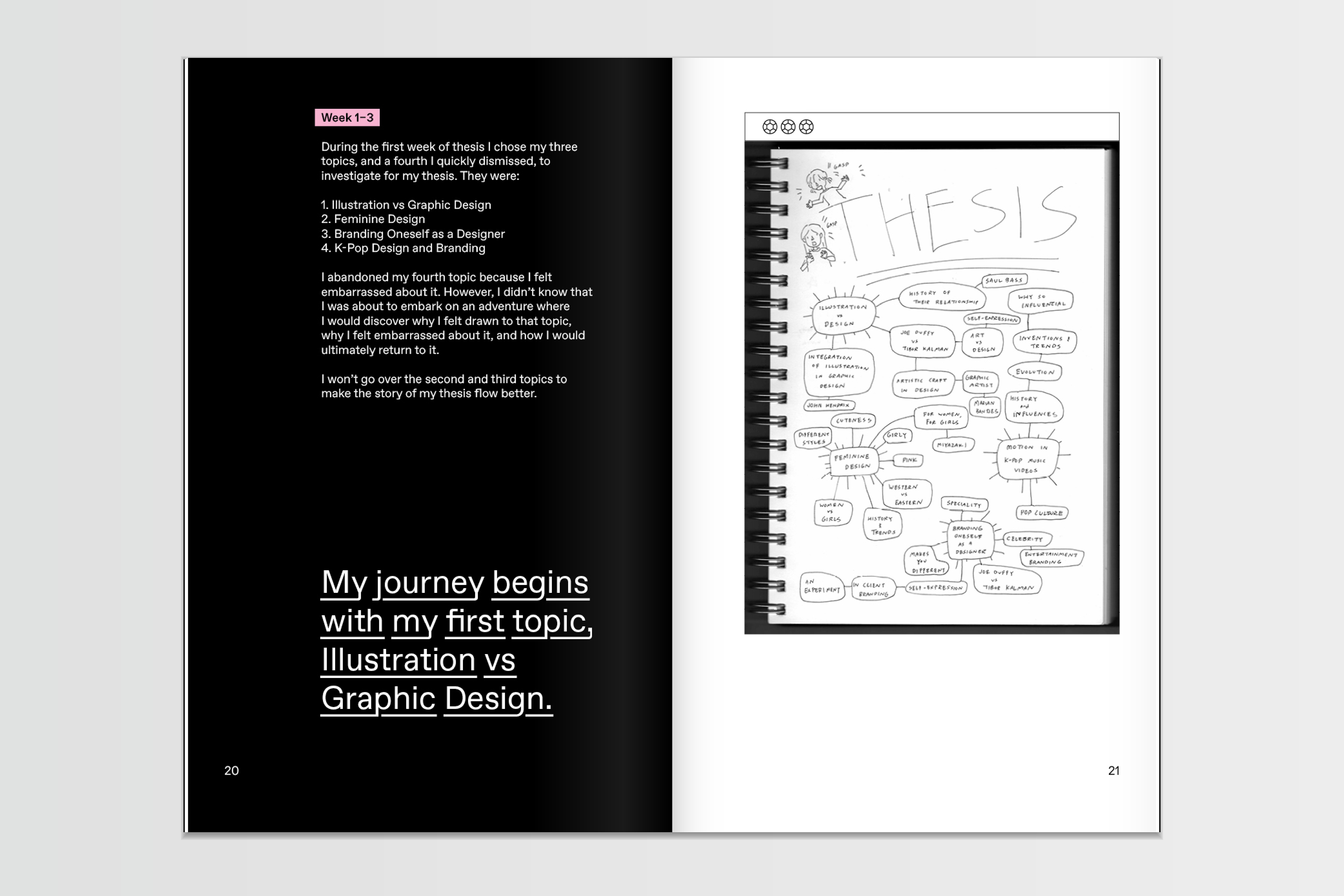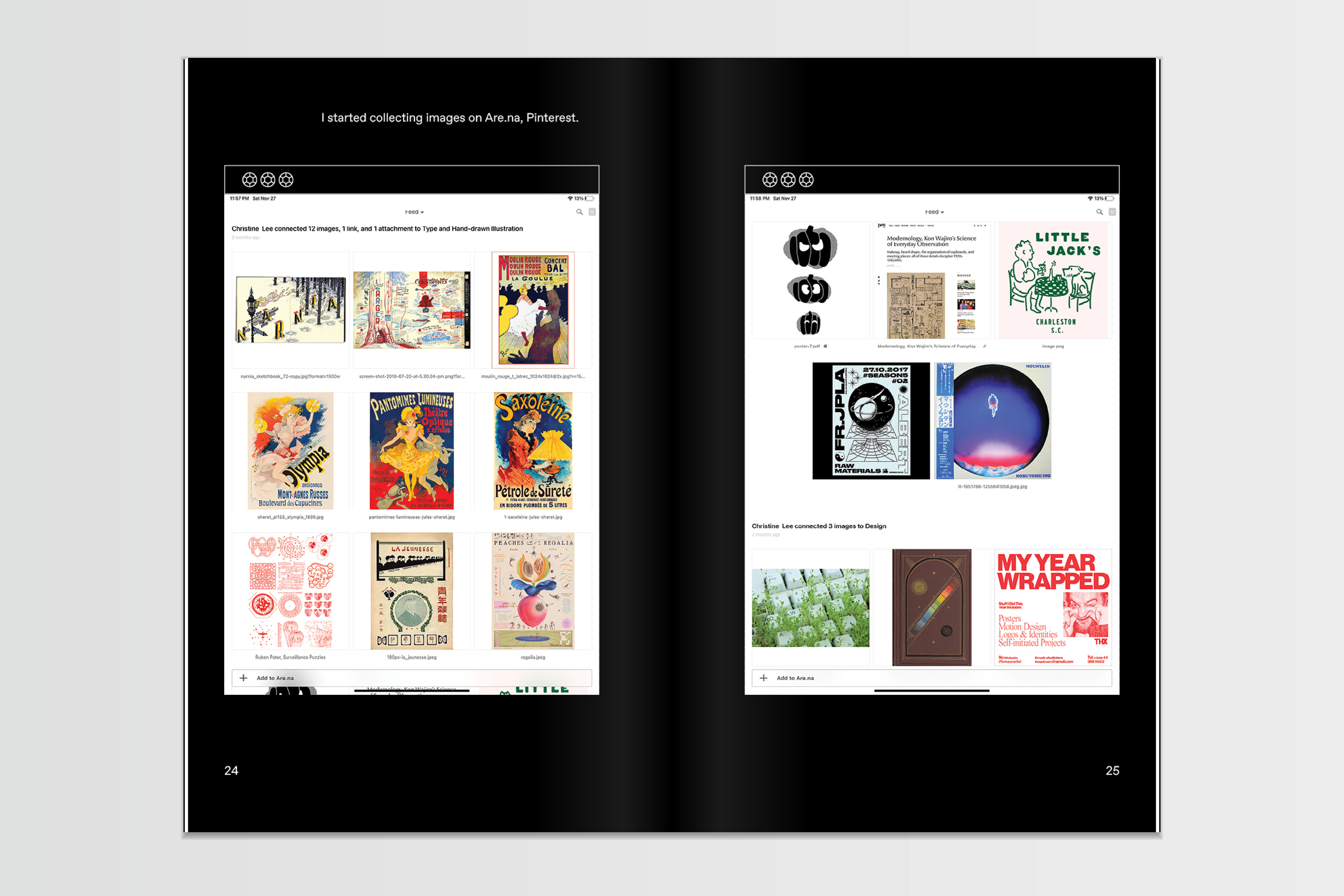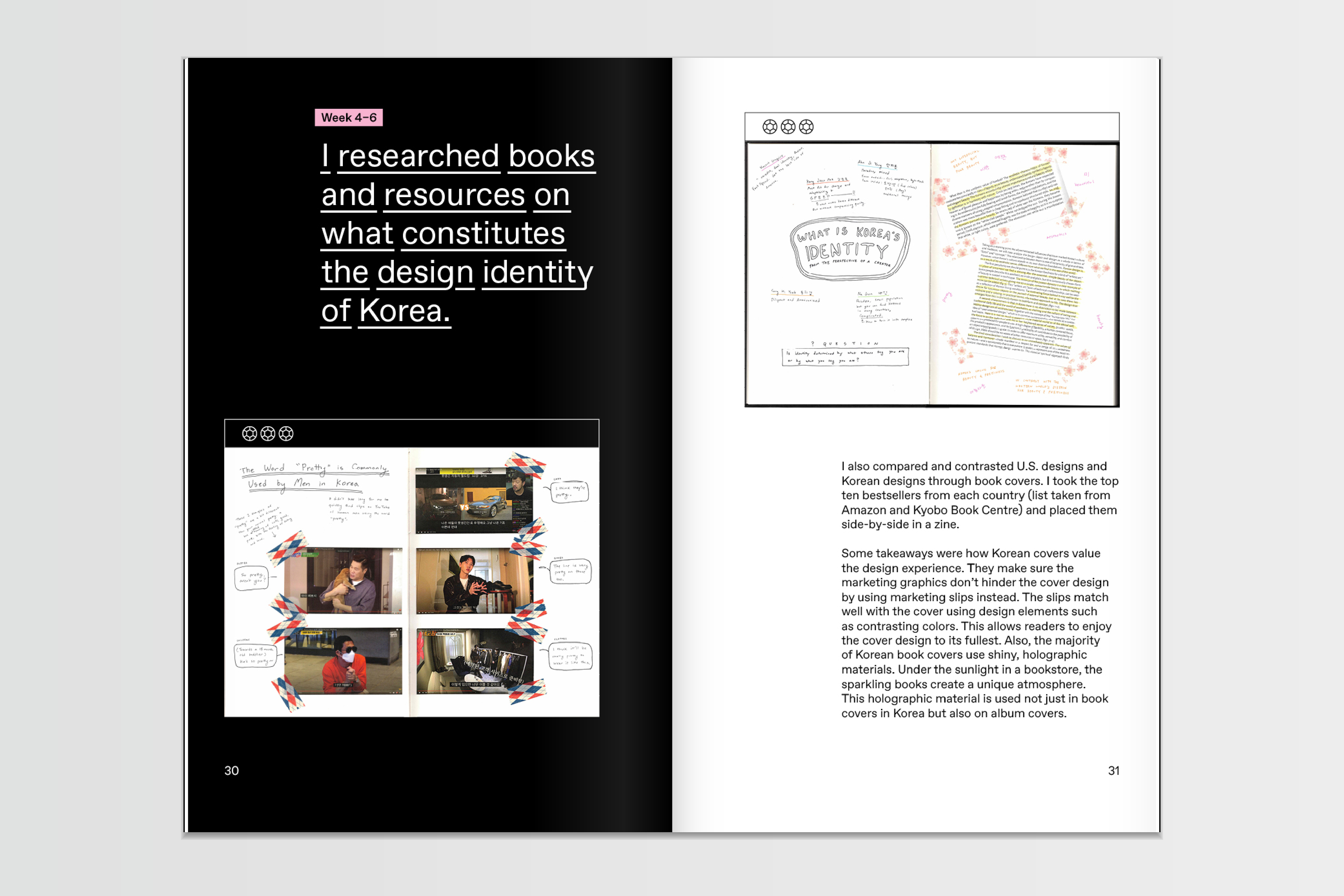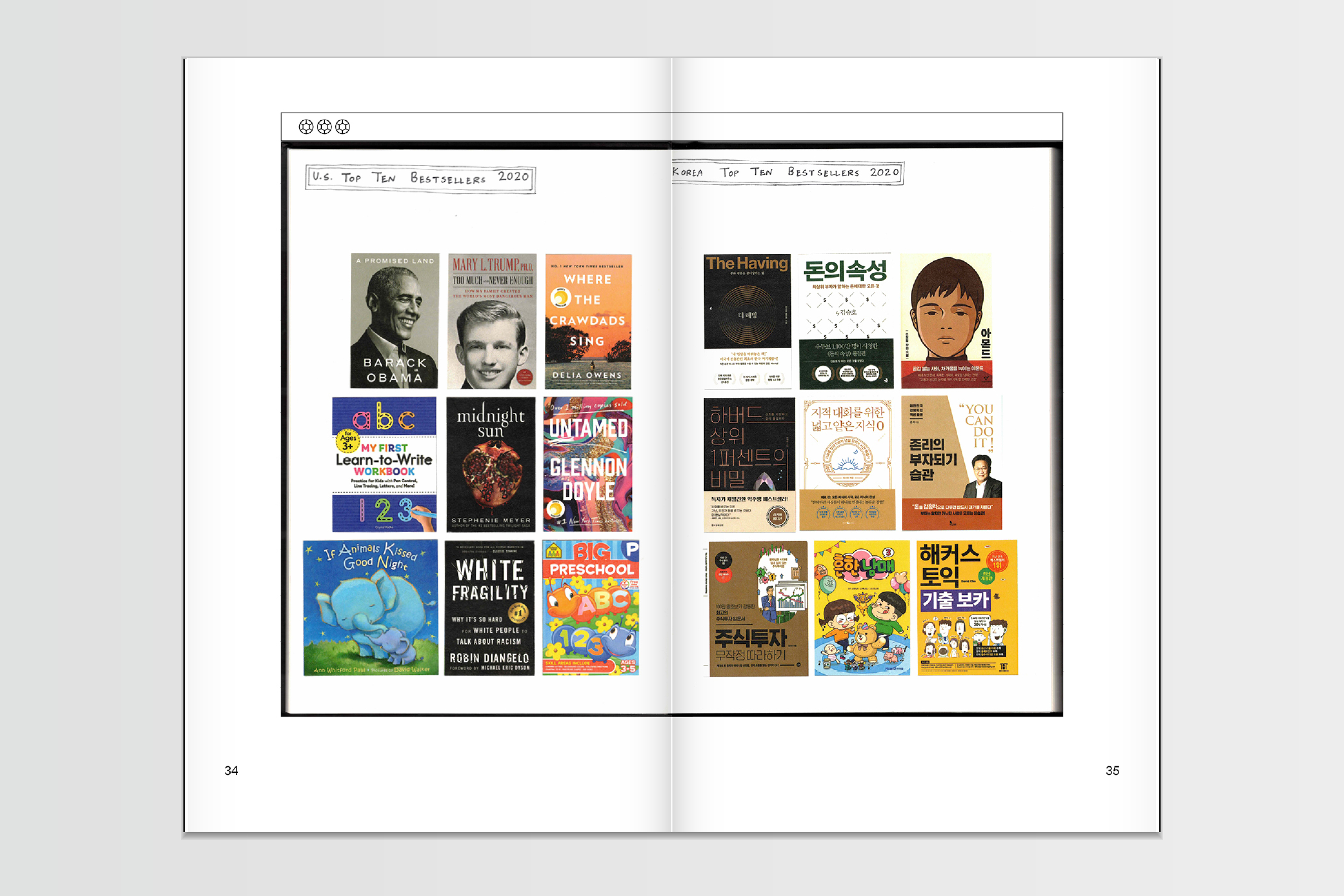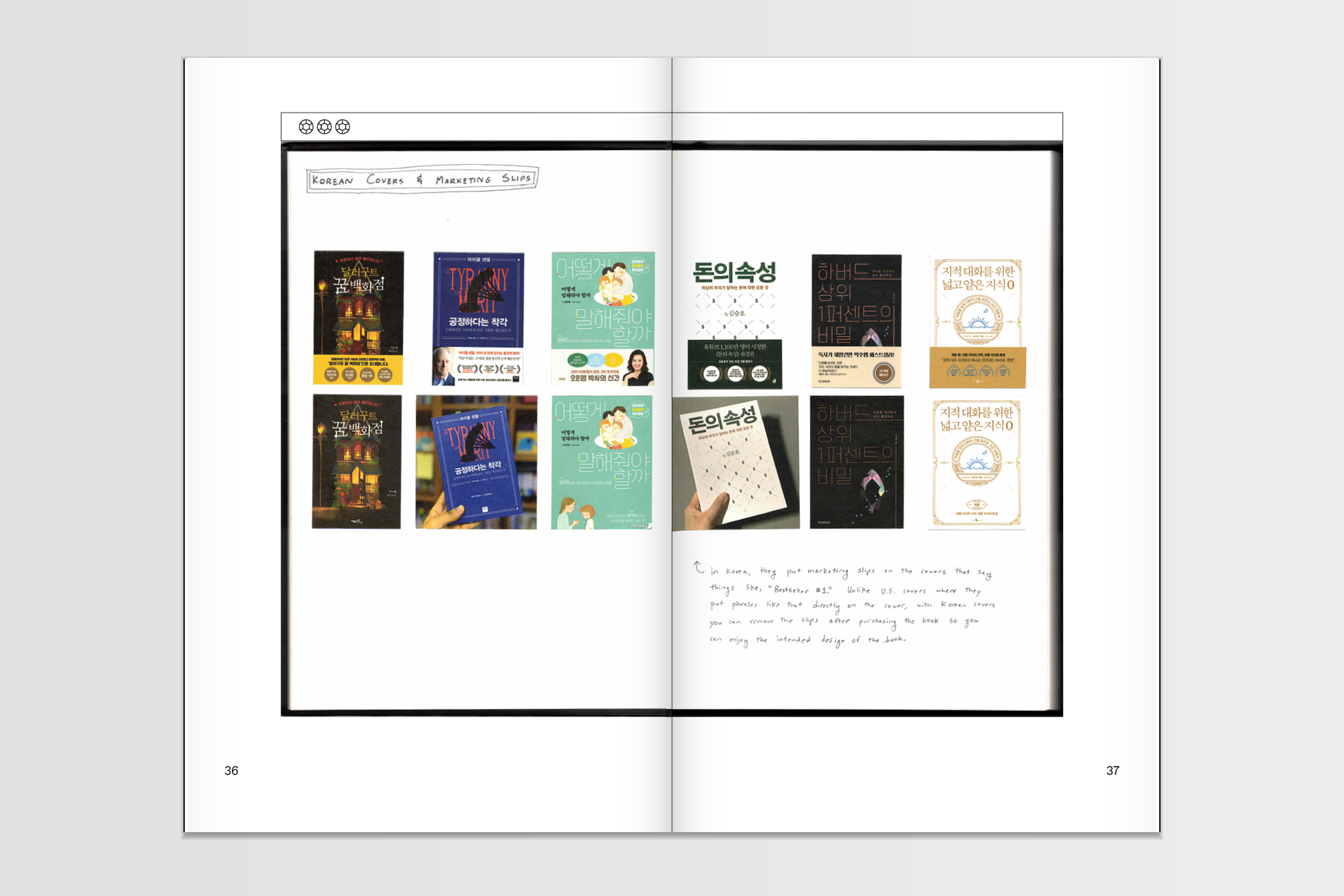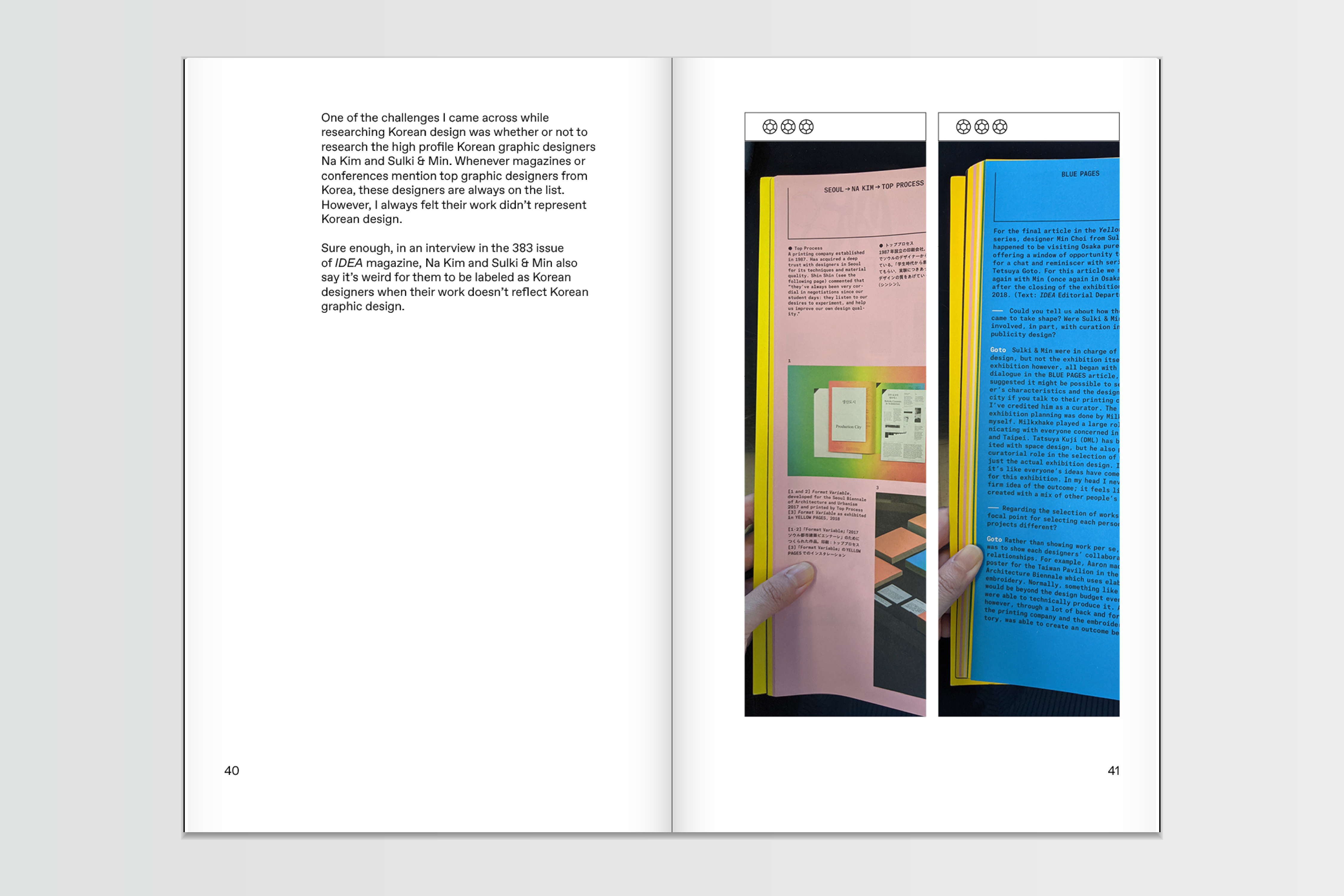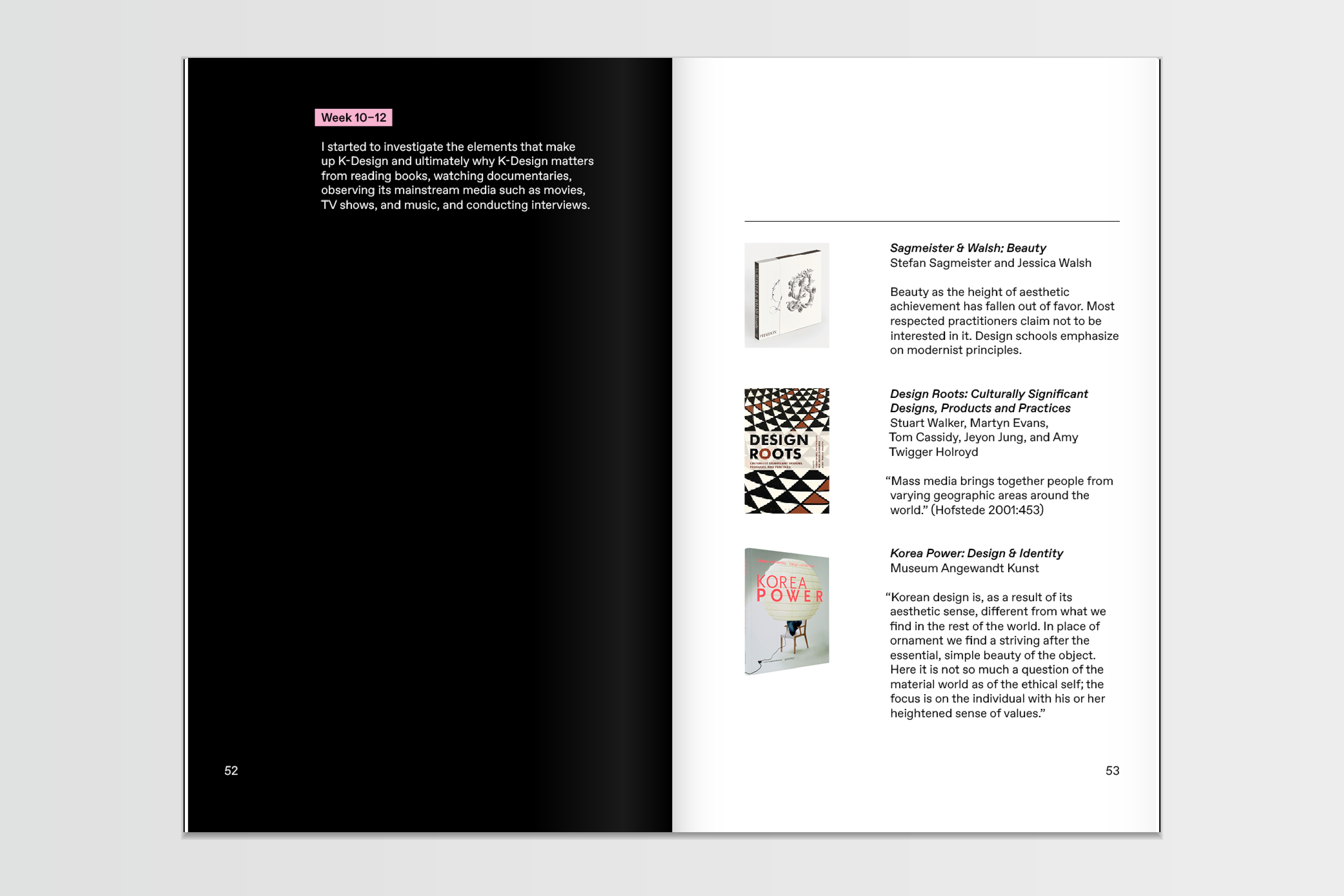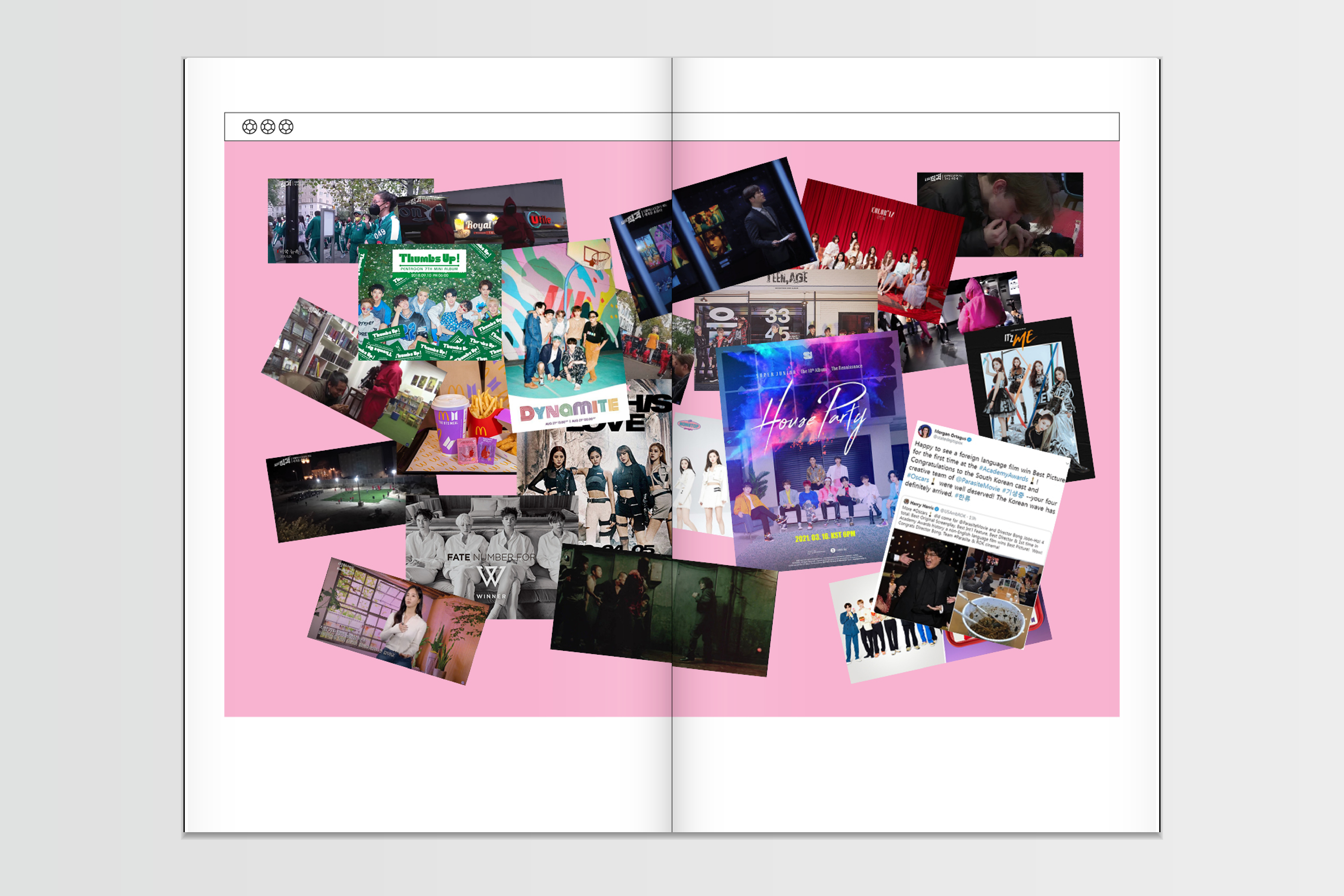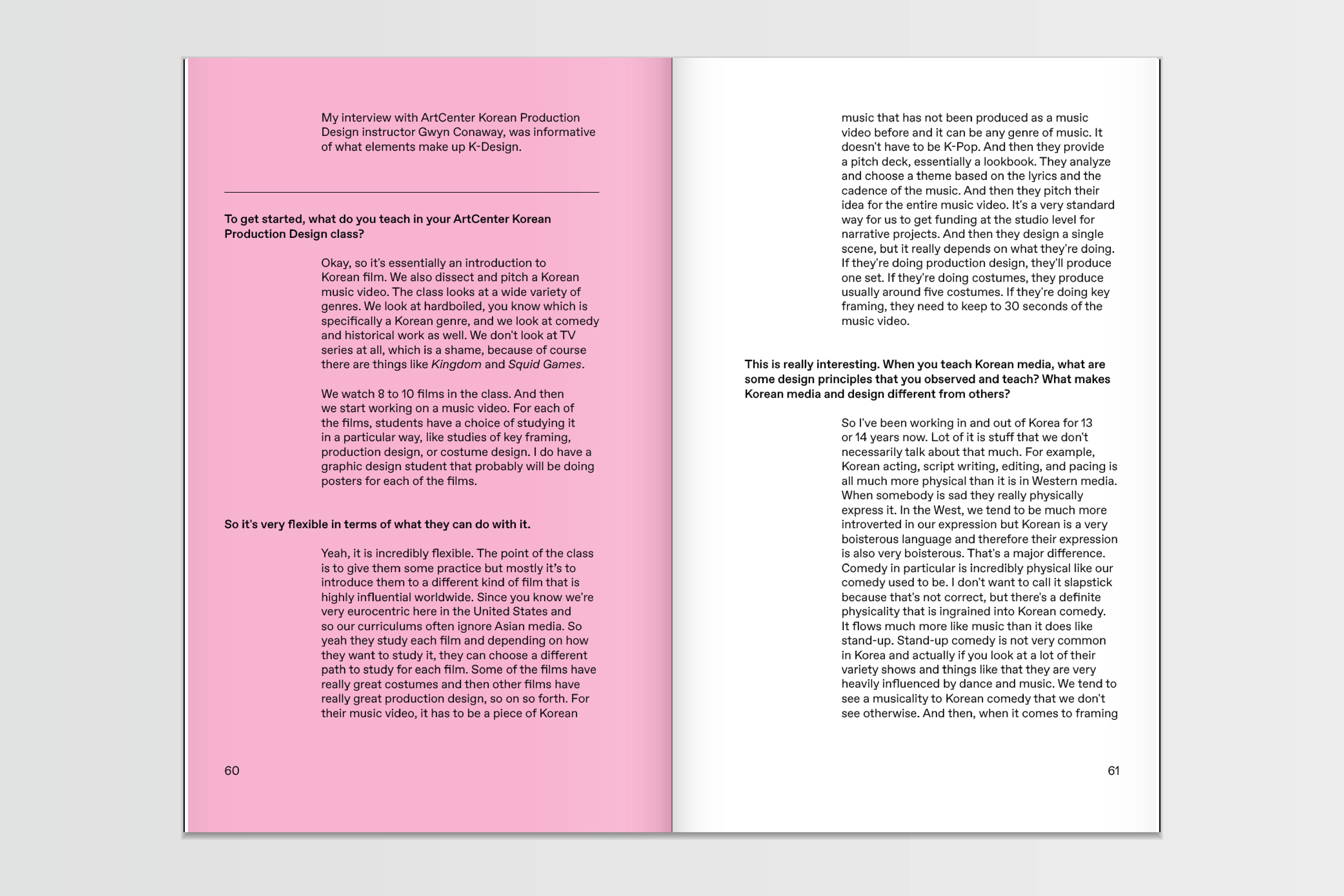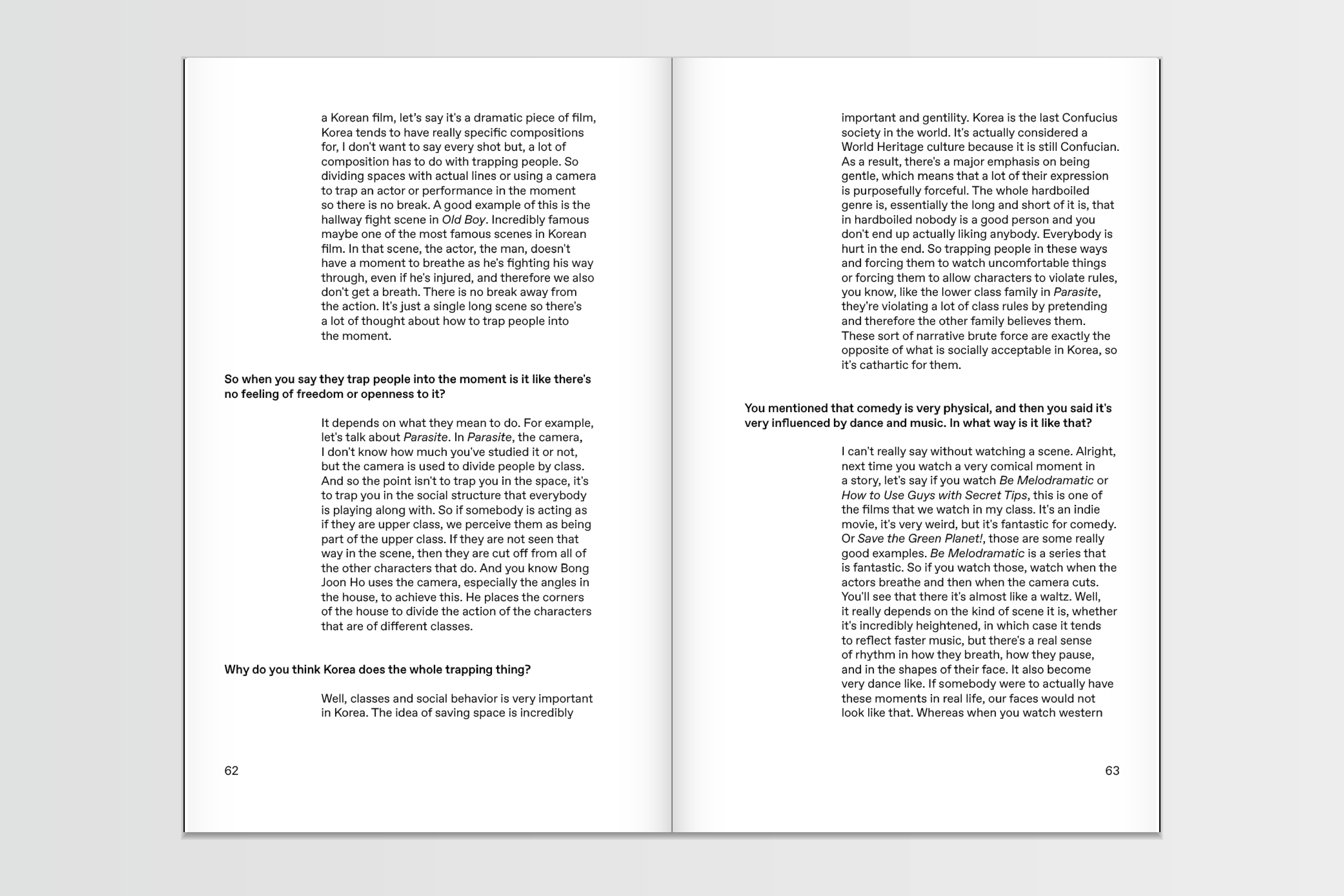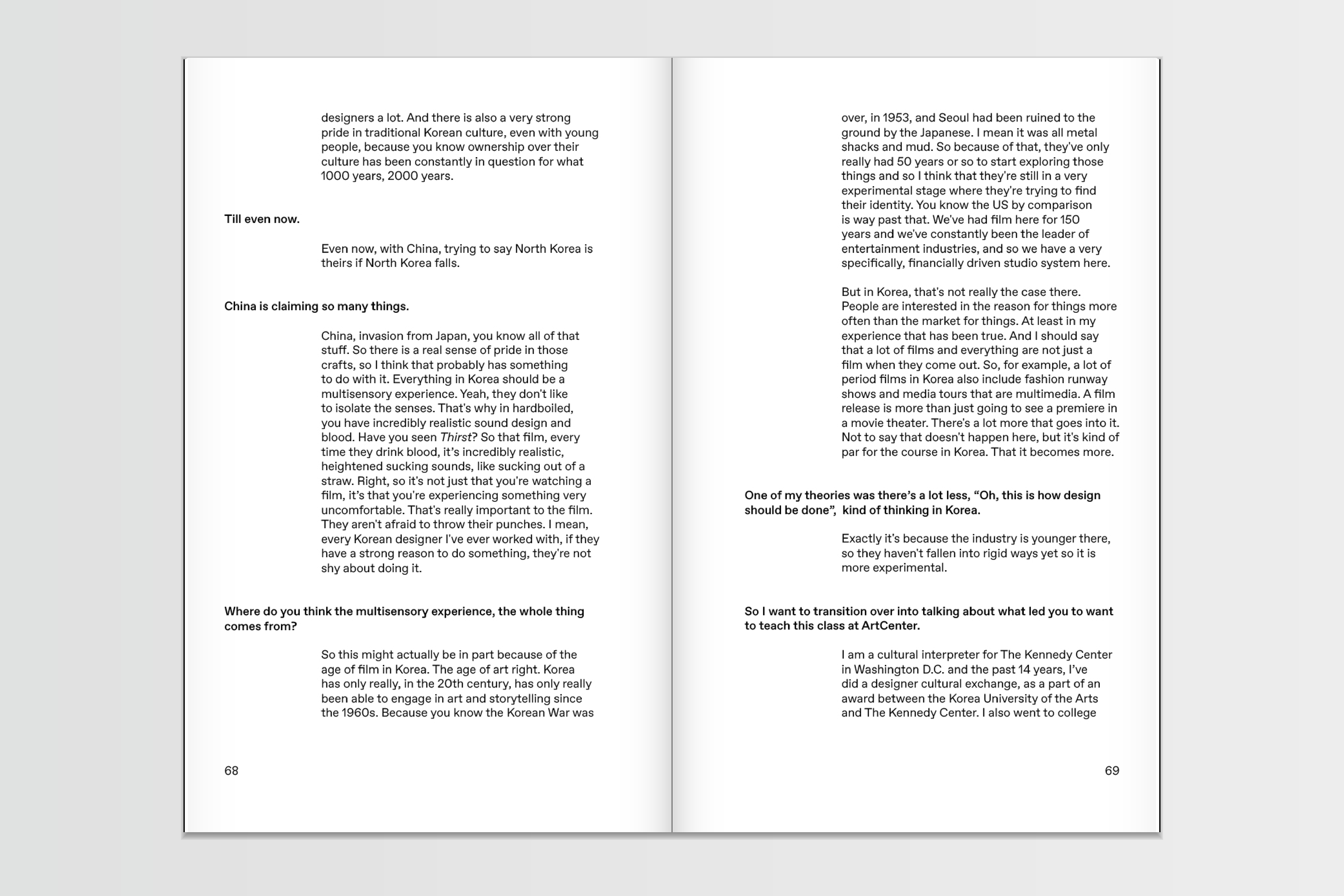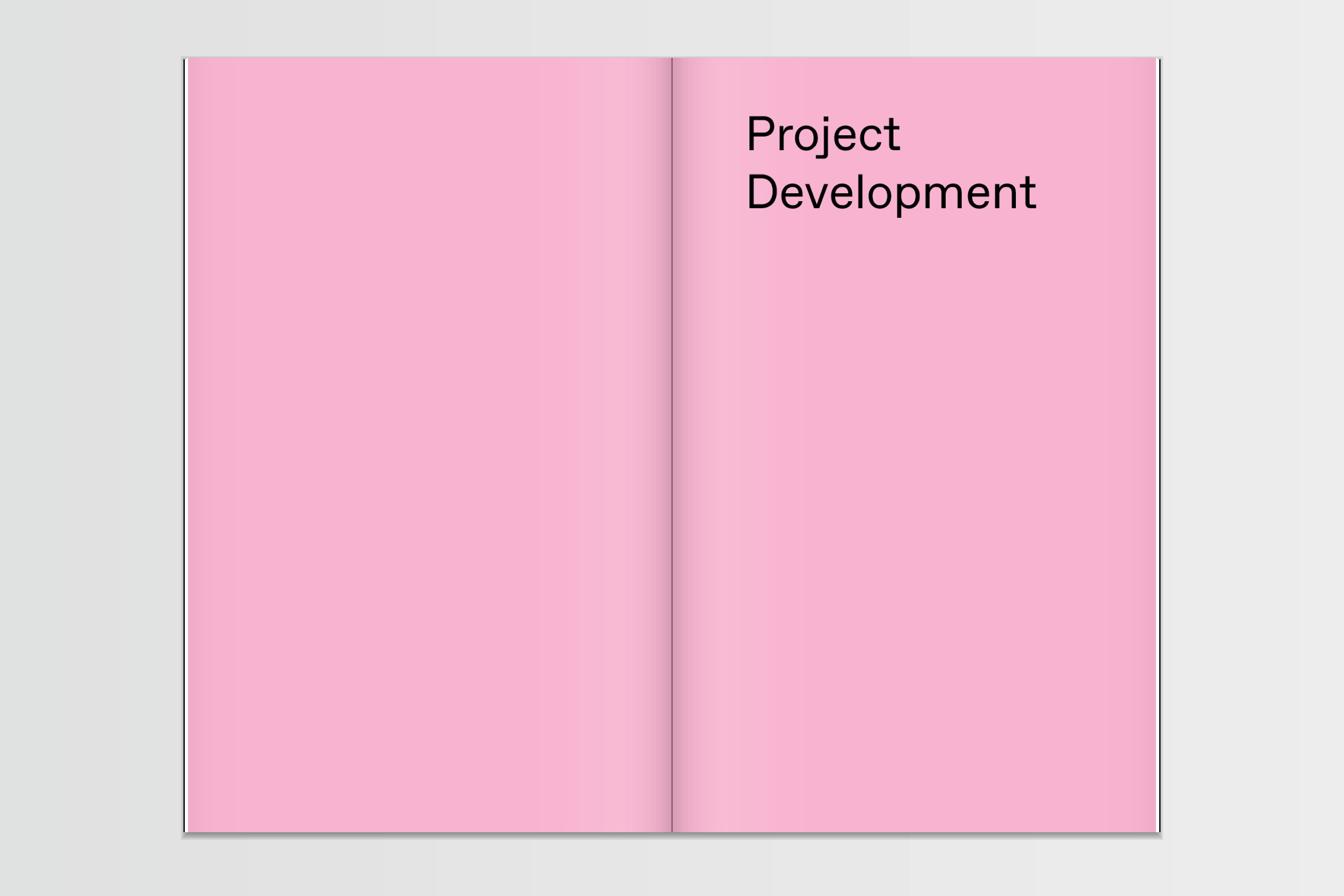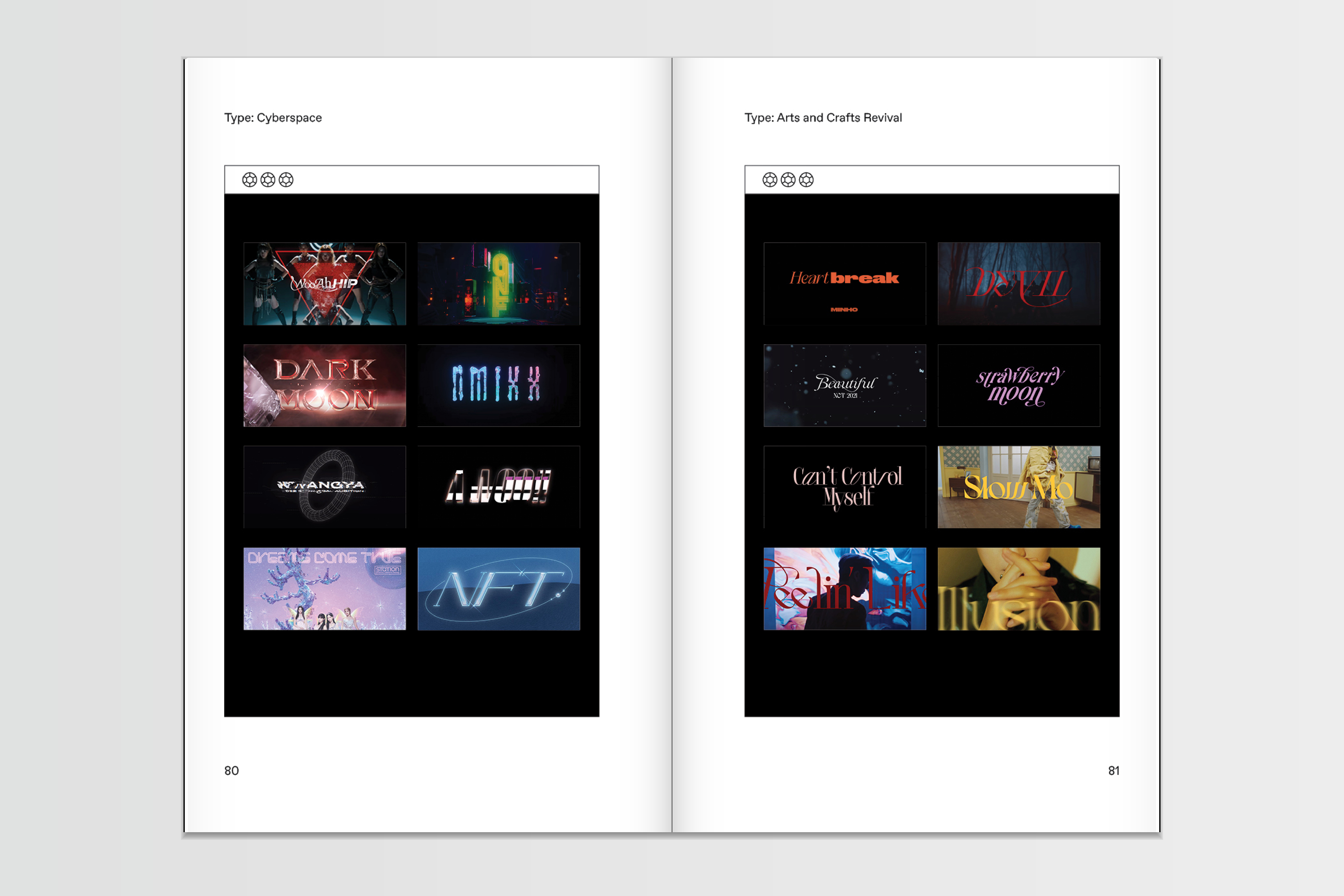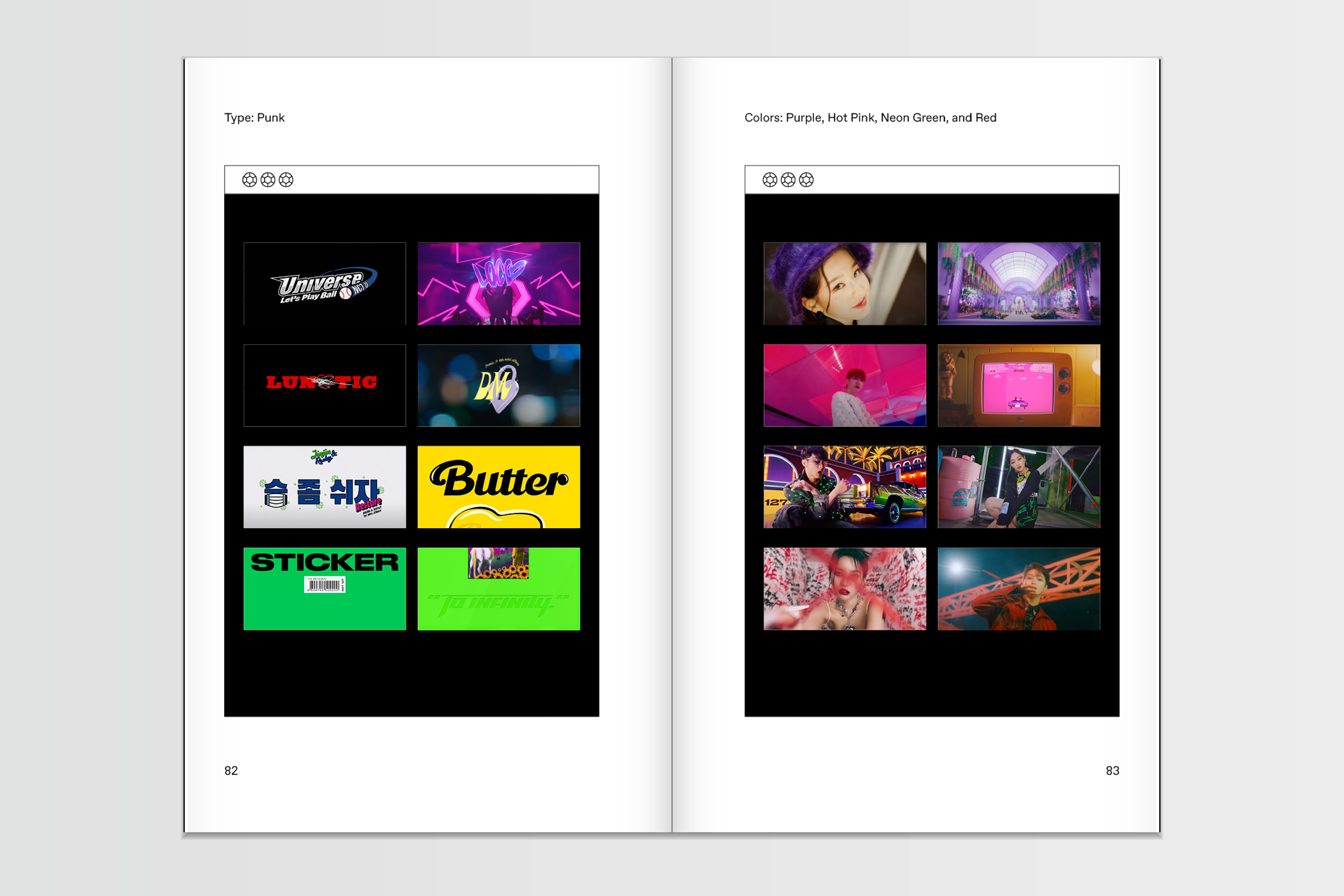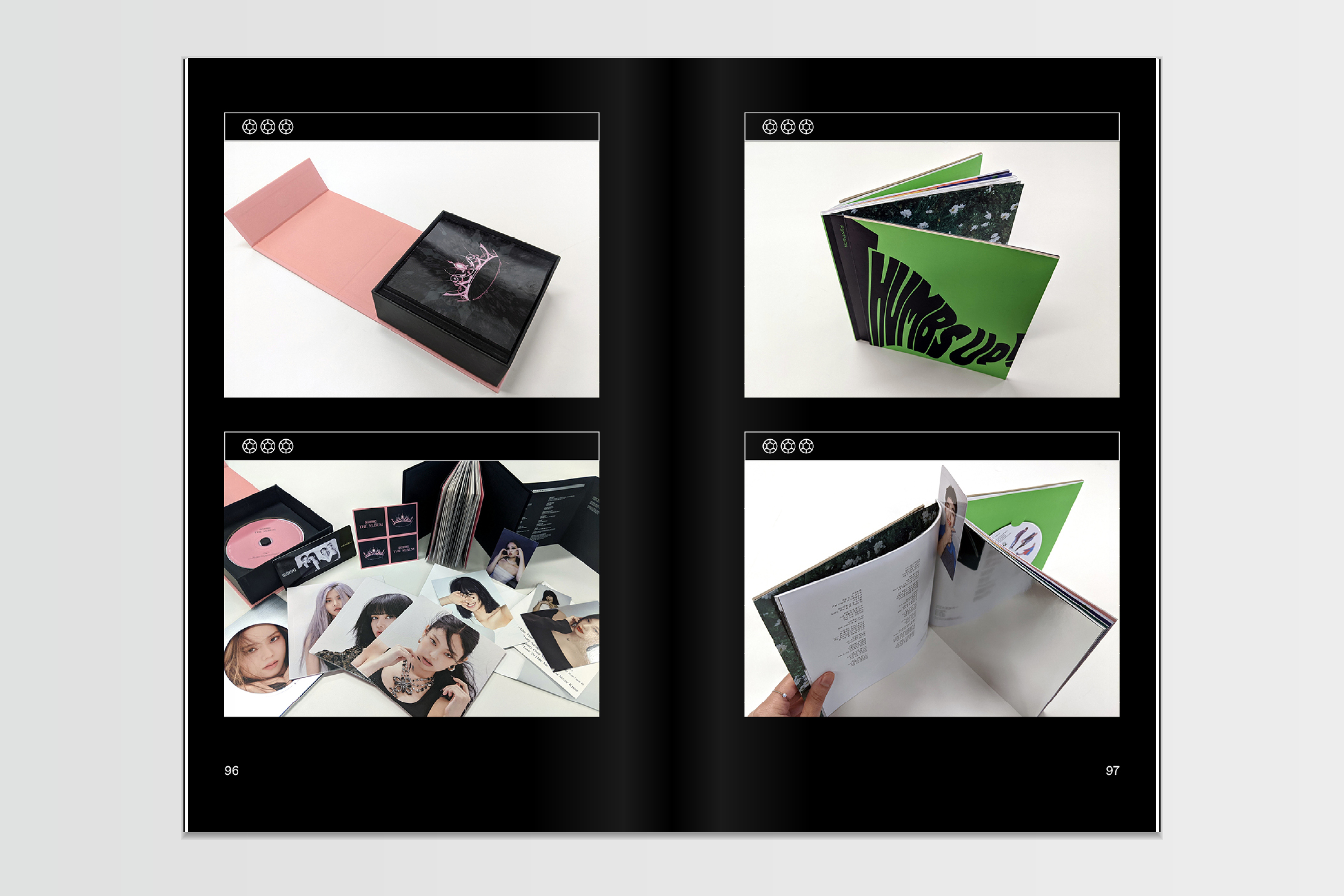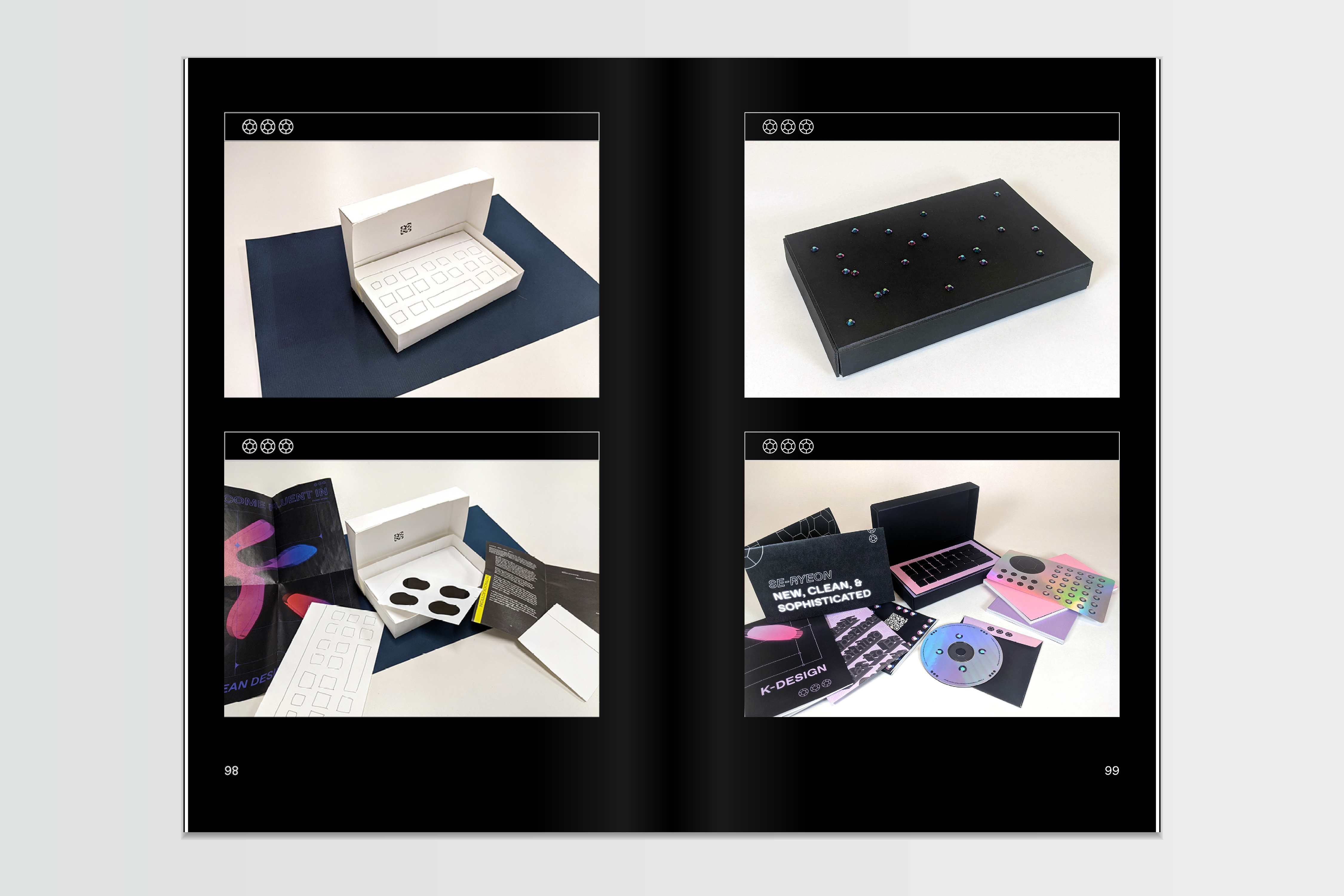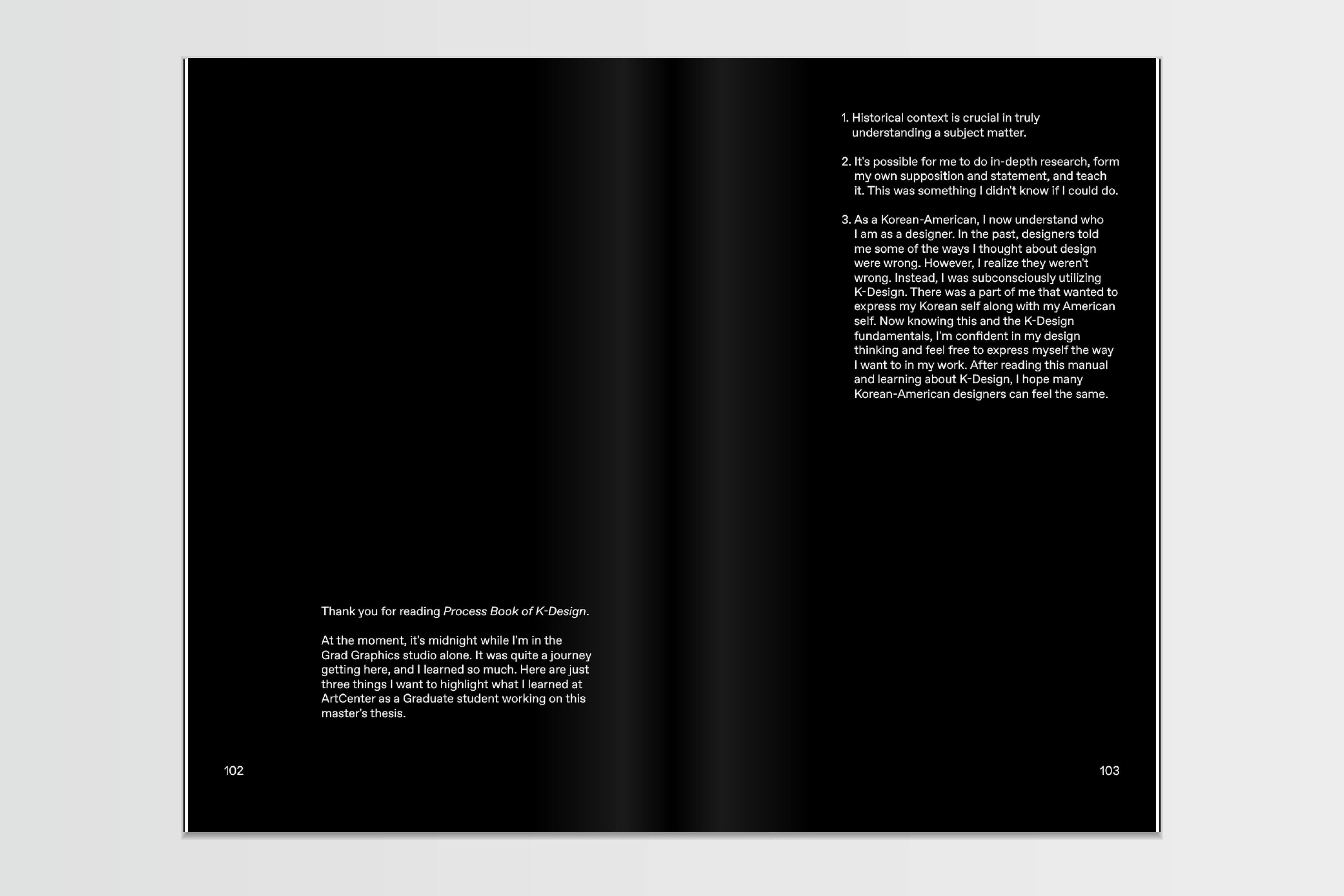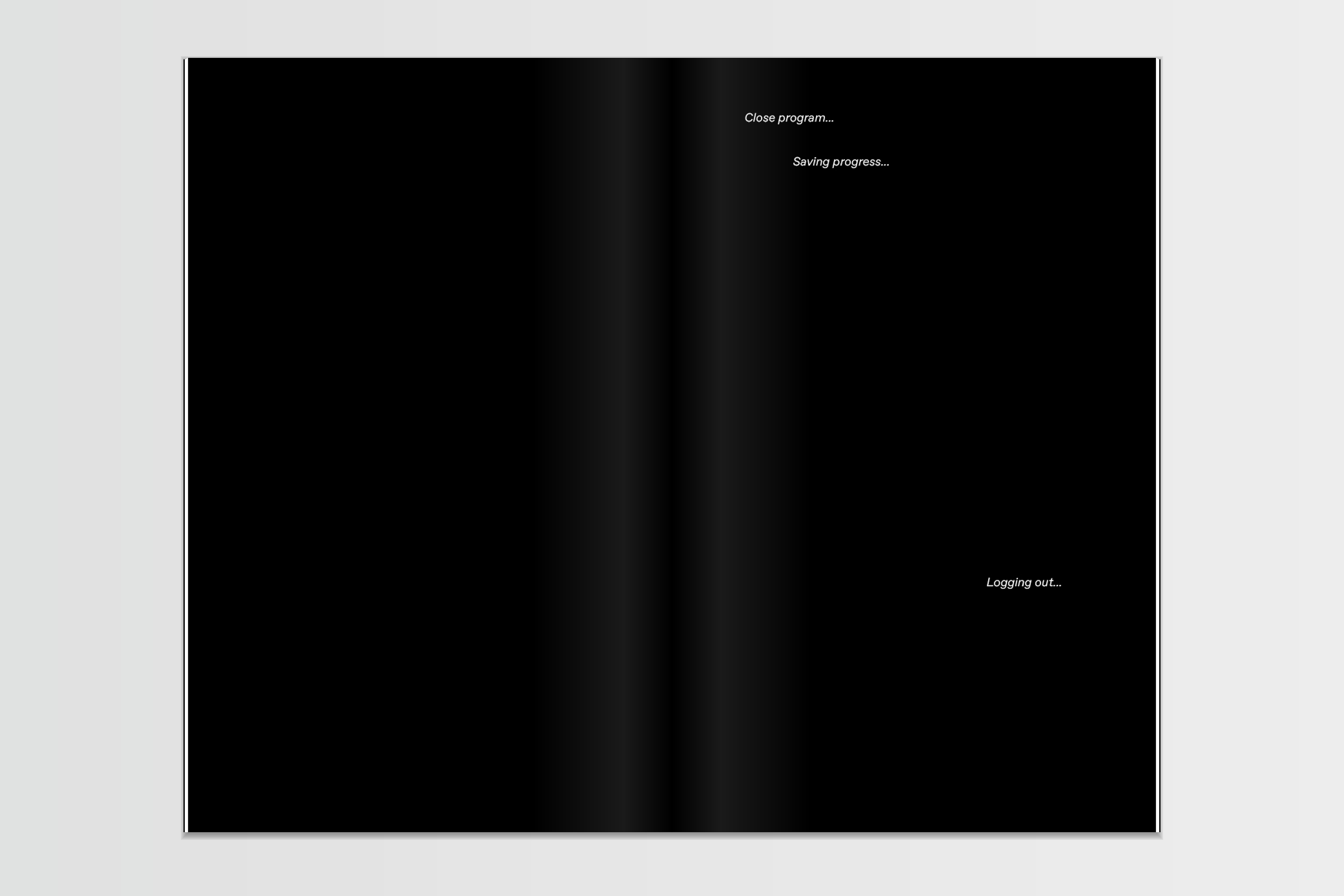 All designs by Christine Bobae Lee

All research, writing, and interviews done by Christine Bobae Lee

---